Juxtapoz for Outside Lands Music & Arts Festival 2011
Juxtapoz // Tuesday, 02 Aug 2011
1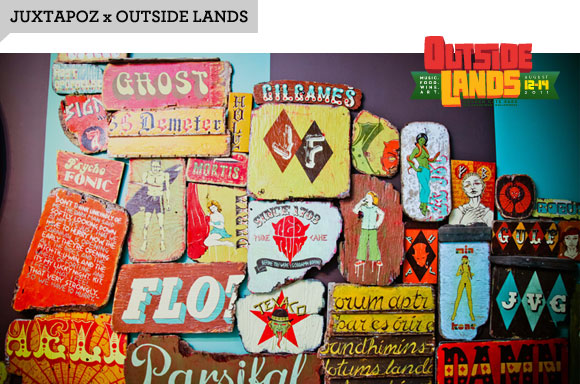 This year, the now annual Outside Lands Music & Arts Festival in Golden Gate Park in San Francisco, has asked Juxtapoz to curate and present the visual art for this year's festival. So we gathered a team of artists, including Mike Shine, Monica Canilao, Nicholas Kuszyk, Tiffany Bozic and others to contribute installations and works for weekend event. We know that all 4 of these artists have something big planned.
Lots more to show you in the coming weeks. We are very excited about being a part of Outside Lands!
And the music won't be bad either... Arcade Fire, Erykah Badu, The Roots, Arctic Monkeys, The Shins, Muse, Best Coast, The Decemberists, Major Lazer, Big Boi, Girl Talk, The Black Keys, Beirut, and Phish. Good stuff.

Here is the official word that we are getting out there:

For Outside Lands 2011, the Outsider Art will be curated by Juxtapoz Magazine to present an immersive aural and visual weekend. For 16 years Juxtapoz magazine has introduced some of the world's most innovative artists, and with this year's Outside Lands Music & Arts Festival we break new ground by bringing these artists and their work live to festival attendees. Music and food lovers will get the chance to explore exquisite installations in an expanded wooded festival space as they venture into Golden Gate Park to see original experiential creations by Juxtapoz favorites Mike Shine, Monica Canilao, Nicholas Krusyk and Tiffany Bozic. The middle of the Polo Fields will host live painting every day by Sam Flores, Nate Van Dyke, Chez, Apex, Aden Catalani, Eos Montana, Skinner and surprise guests.
August 12–14 – Golden Gate Park, San Francisco
Juxtapoz.com – sfoutsidelands.com