Image Gallery
Juxtapoz @ Fame Festival: Recap and Reflection
Juxtapoz // Monday, 26 Sep 2011
1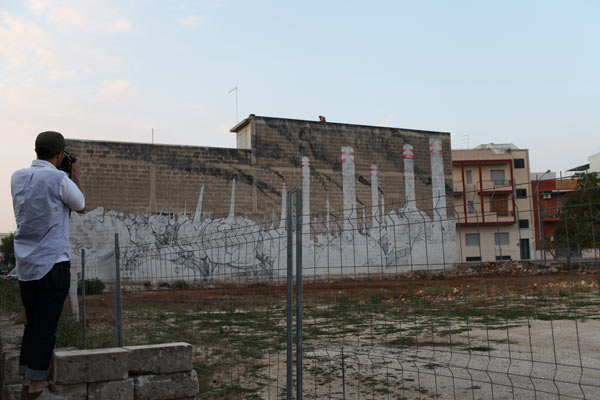 We just left Grottaglie, on our way to Nuart in Norway, but we went through some of our pictures from the past few days and compiled a few more from the town and FAME Festival. From the old ladies who showed us a few hidden walls, to the generous latte macchiato consumption, and the many Blu walls, all was well in Italy.
Our general outlook about FAME Festival was more of surprise than anything. A lot of people show up to Grottaglie, maps in hand, to find as many walls as possible during the opening weekend. Although it would have been hard to find some of the larger Blu, Escif, Lucy McLauchlan, Ericailcane, and Aryz walls if we didn't have the map, part of the fun when we first road into town was not having any guidance or gameplan on how to find the artwork. Walking around the old town, spotting a randon Swoon wheatpaste or Os Gemeos character, or a Sam3 bust made the adventure just that much more special. The randomness was really interesting.
There was definitely a feeling amongst us that the positive energy of people coming from all over the world, spending money in this small city, coming to see the art, giving something to the local economy is a blueprint that many cities in the United States should consider. We want to congratulate Studio Cromie and Angelino, who started and organizes FAME Festival each year; here is a young man who had the vision to bring international muralists to a small town in the South of Italy, worked with local politicians and residents to secure and organize wall space, generated money for the local economy, and has now set the bar for other urban planners in major cities such as Los Angeles, NYC, and San Francisco to engage in the conversation of honoring public art. As Festival goers spilled out of restaurants, studios, and galleries throughout Grottaglie this weekend, there should be a real discussion about how to bring these sort of events to the United States in years to come.
Perhaps Saber's skywriting project in LA to draw awareness to that city's moratorium on public art came at the right time for this particular travel experience; the positives of public art are undeniable, and there is an audience hungry and wanting to celebrate and immersive themselves in the culture.
We would like to thank everyone at Fame for their hospitality during the past 5 days.