Juxtapoz Detroit Project Written Up in Free Press
Juxtapoz // Tuesday, 28 Dec 2010
1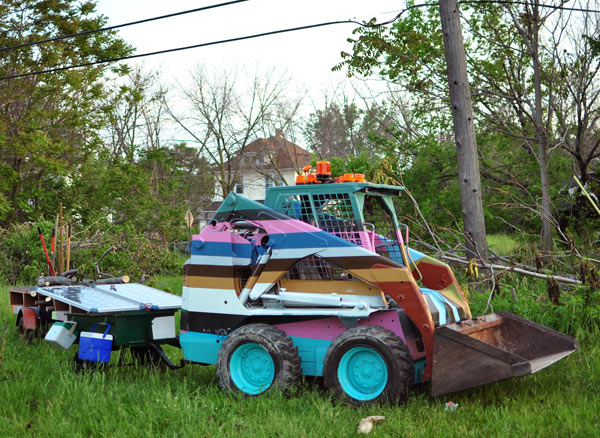 This past Fall, as we have documented in full, we saw 6 artists off to Detroit to work with
Powerhouse Productions
as part of our
15th Anniversary Benefit and Auction project
. Swoon, Ben Wolf, Monica Canilao, RETNA, Richard Colman, and Saelee Oh all created unique pieces of art in the neighborhood where the money we raised was able to buy property. The local
Detroit Free Press
just highlighted the project in an extensive article.
The article does a nice job of speaking about the project, connecting with Powerhouse's Mitch Cope and Gina Reichert, and also details some of the things that intially drew us to Powerhouse: their work within the community while simultaneously thinking global about how people and artists can participate around the world to make creative contributions in a new spirit.
That was at the core of our particular contribution to Powerhouse. The world is connected now as it never has been before, and each country is facing interesting economic situations and decisions in the post-industrial landscape. Detroit is a symbol in the USA, just as cities in England, Italy, Brazil, South Africa, India, and beyond are symbols of post-industrial, post-working class departure. What Powerhouse was doing was creating an energy and cycle that could be replicated in other places. Take existing infrastructure and allow artists to reimagine and rebuild the spirit of an area.
Most people understood what we were attempting in our small way (we are an art magazine, and raising money to not involve art would have been off-base), and they will be happy with our 26-page feature in our upcoming February 2011 issue. We hope what
Juxtapoz
did, and Powerhouse will continue to do in Detroit, will be introduced in other cities as a way of promise and recreation within the arts.
The world is a small place, and creative people tend to see productivity and new energy as a positive domino effect to take to their corner of the globe. That was our aim.
Stay tuned for more Juxtapoz x Powerhouse Productions in Detroit in the February 2011 issue.