Juxtapoz Dark Arts with Marci Washington and more
Juxtapoz // Saturday, 27 Mar 2010
1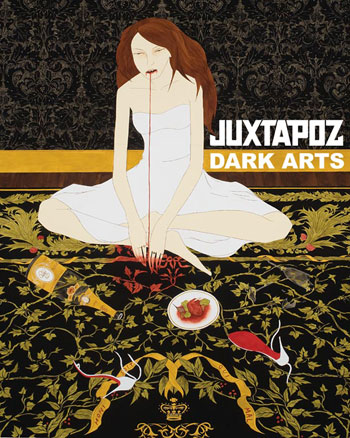 Marci Washington's macabre work graces both our current April 2010 subscriber cover, as well as our popular Dark Arts book. If you have yet to check 'em out, you're missing out on a whole lotta great art.
Juxtapoz Dark Arts is all about an art form that aims to be unsettling and has its roots in the 20th Century. Some people make a connection between dark art and gothic subculture, others simply associate it with the metaphysical, the disturbing or the night­marish.
However you perceive it, this art form is now part of mainstream culture and is becoming ever more popular. It can be found in all sorts of media including advertising, television, and film.
Grab your copy of Juxtapoz Dark Arts HERE.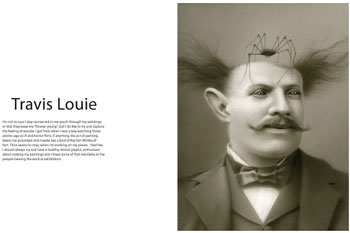 Travis Louie: "I'm not so sure I stay connected to my youth through my paintings or that they keep me «forever young», but I do like to try and capture the feeling of wonder I got from when I was a boy watching those atomic age sci-fi and horror films. If anything, the act of painting keeps me grounded."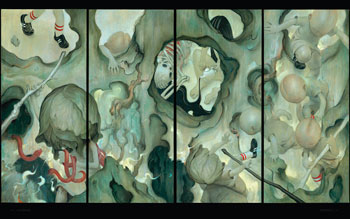 James Jean: "Persephone stumbles through Hades with her pomegranate-flavored dogs. In this blind excavation of the landscape, she will encounter fields of scholar's rocks, writhing swans, and cleft-headed peach boys playing hide and seek in the shadows. ..."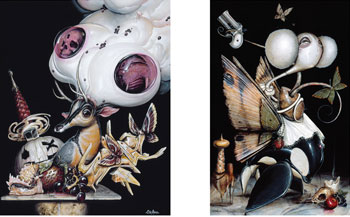 Greg 'Craola' Simkins: "It was in fourth grade and I was a tremendous pain in the neck to my teacher, so once again she locked me in the closet. It wasn't until the third hour that I heard a voice whisper to me, "I can get you out of here." To my surprise I whirled around and could just barely make out a shape in the dim light. As my eyes focused, I realized it was some kind of mouse spider. It was as if the top half of a mouse had been sewn to a spider's body. Can you believe that?"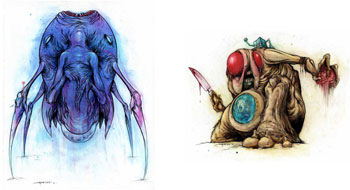 Alex Pardee: "I guess my imagination takes over a lot and makes me see things that don't happen, and that don't exist. I try to draw and paint some of these experiences and creatures to share them with you, but I have a long way to go before I can really help you see what I see."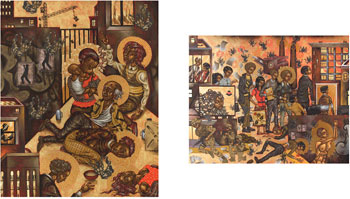 Stelios Faitakis: "My pictures are about the human being, the human condition, the question of God, existence and our relationship to our surroundings. I am still trying to keep it on that general and most basic level as I feel that humanity hasn't morally progressed much after many centuries of philosophy and scientific research."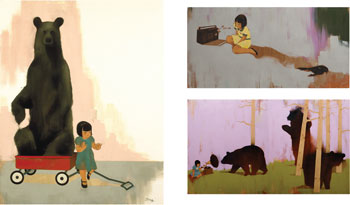 Seonna Hong: "I hold my cards pretty close to my chest. I'm an open book to those who know me well, but even then I'm extremely protective and sensitive to vulnerabilities, secrets and lies..."