Juxtapoz 15th Anniversary Art Auction: WK Interact
Juxtapoz // Friday, 25 Sep 2009
1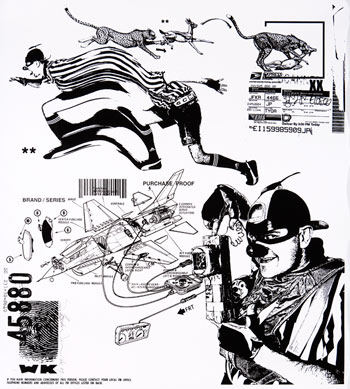 Listed as 45880, 2009
Hand-pulled one color silkscreen on 250 GSM Fine Art Bristol paper
Image size: 32 1/4 x 28 3/4 inches; paper size: 33 x 30 inches
Joey Garfield: How long where you here in NYC before you put your first piece of work up?

WK Interact: When I arrived here I was 21 years old, but it took me a year to look at all the places I thought would be best. I started with paint on paper and glued it all over the place, and I got hooked!


Was there a strategy?

NYC was a village back then; it wasn't this massive city. I was going around at night on a bike. I made friends with the neighborhood people. I was always paying attention when I would bike around so I would ask someone if I could paint their wall. They would laugh at me, and say, "I'm not going to pay you." I would say, "Okay, I'll do it for free." I didn't have money to buy the paint so I would work a regular day job working on apartments, doing sheet rocking or plastering things and then I would steal all the leftover gallons of paint and add them to other gallons. So [my work] was purely black and white because it was the easiest and cheapest way to pull it off. But from there nothing happened for like five years. I was really struggling.

In France I used to work in film, painting backgrounds and sets, doing marbling effect and fake wood, but I didn't want to do commercial art just because I knew I was capable of getting a job doing that. I wanted to see if my emotional black and white imagery would work. I kept doing these low budget jobs so—in the least—I could keep doing my stuff on the streets. People used to tell me, "You're doing stuff from the 1980s, it's dead now, there's no place for it … no one will pay attention." But I kept going. One day someone bought most of my work. I was shocked, and thought, "Someone paid attention." So then I decided can you do better? Can you interact differently? Larger? That's when I blew up the figures into a larger scale. Things happened pretty fast after that, but I struggled for seven years to get there. It was painful.


What was painful?

Not speaking English, not paying rent. I lived in an eight-square-foot apartment. So small I couldn't even stand back to see what I was painting. I was learning. It was nothing bad. I thought it was a normal way to come up and make it. But I've seen that a lot of people didn't have to do this.

When you're young, busting your ass, it feels normal. But seeing privilege is never easy.

And eating was a big problem. I used to just eat noodles in Chinatown.


The one-dollar noodle bowl?

Yeah. I would eat and shit noodles! For a couple months it's fine, but when you start doing it straight for a year your system really depresses. One night I woke up extremely skinny and sick. I was so addicted to my work because it was all that I had that I challenged myself to go over all of my stuff. I had no scaffolding, and I would just use ladders over ladders. It killed my knees and I'm like—why? Because I knew I could do better.

Do you see that piece with the chainsaw? [Gestures across the studio to a found object sculpture consisting of a big metal framed door, number 101, adorned with boxing gear, hardware, and in the center on the door is a paste up of a man with a target on his chest.] It's an auto-portrait of myself. That was my door to my apartment for eight years. It's a reflection of struggling in NYC. I'm the target; the boxing gear is my protection. I struggled so much in that apartment I thought, "The best way to remember how difficult it was is to take the door with me." A door opens you up to a new space. It's sarcastic but I don't want to forget how tough it was for me.

Some of the stuff I did I laugh at. It was extreme but nothing too bad happened. I woke up in an emergency room one time, but I'm still here.
--Excerpt from Juxtapoz #96, January 2009. Interview by Joey Garfield.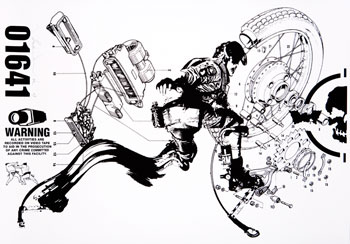 Track 01641, 2009
Hand-pulled one color silkscreen on 250 GSM Fine Art Bristol paper
Image size: 26 x 39 inches; paper size: 28 x 40 inches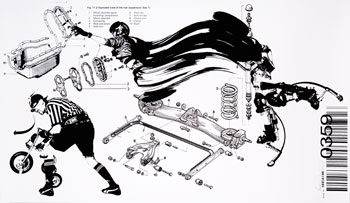 Escape K, 2009
Hand-pulled one color silkscreen on 250 GSM Fine Art Bristol paper
Image size: 27 x 46 inches; paper size: 28 x 48 inches
All WK Interact artwork donated courtesy of Jonathan Levine Gallery.
Stay updated on The Big Payback Auction at www.juxtapoz.com/auction