Juxtapoz 15th Anniversary Art Auction: Thomas Campbell
Juxtapoz // Thursday, 08 Oct 2009
1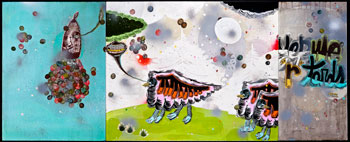 Artist and filmmaker Thomas Campbell hardly needs an introduction; his contributions to the world of contemporary art far extend his name. We are both happy and proud to share Campbells' donation to our
Big Payback art auction
to benefit Powerhouse Project in Detroit.
Mark Whiteley: A lot of the words you incorporate seem like fragments of ideas, almost obscurely placed together. You can take them just at face value and it works, but there is also a deeper level to it. You have to engage with the words, and match them up with what you see visually for a complete understanding.

Thomas Campbell: Wow, that is exactly what I hope people see. Like Sing Ding Aling is a self-affirmational idea, where I'm trying to say to myself, "Be happy right now for what you have, and be present with what you have now, dummy." Don't be stupid. Be engaged now. It's not super preachy on a surface level, but if you want to go into it, it's there. You can go into the images. I like work that gives you your own area to have your own experience and not be rigidly defined.



Has your work changed much over the years in your eyes?

Like crazy. It's so different from the crappy paintings on paper and photographs from a long time ago. I think my brushwork is a lot tighter, and my film work is a lot smoother, the photographs are more engaging with the color fields, and the presentation of the work is more evolved. Making the art builds on itself, and you learn new tricks every single day. Then all those tricks add up. When I was 19 or 20, I went to this gallery and showed the owner my artwork. I thought he would be interested 'cause I liked what the gallery had been showing. I showed them to the guy, he looked at my work, and he said, Yeah, there's something here. You will probably be good at 35 or 40." I got so mad. I didn't tell him to fuck off, but I was thinking it. But he was so right. Now at 37 I think I'm hitting my stride. I have command over certain things. I'm excited about where things are going.

One of the things I'm excited about now is sculpture. I worked in ceramics when I was younger, and I have been working recently with wood and bronze. I really want to do more with it. Maybe in the next year I will work on some bigger pieces with bronze. It's totally fun and weird, ending with such a definitive piece. The last piece I worked on was 115 pounds when it was done. Really substantial. They're crazy to touch.



Why make art?

I think artists have a certain responsibility, or place holder in society, and that's to reflect life, to create images, which help engage people in their own lives in some way. Or hopefully in my case—whether it's with my movies, paintings and sculpture, photographs, or the music I help with—I hope to give people inspiration to live more positive, centered lives. Hopefully I can continue on that path myself.

--Excerpt from Juxtapoz #75, April 2007. Interview by Mark Whiteley.

All Auction info can be found at www.juxtapoz.com/Auction
Detail Images: