Juxtapoz 15th Anniversary Art Auction: The Clayton Brothers
Juxtapoz // Tuesday, 25 Aug 2009
1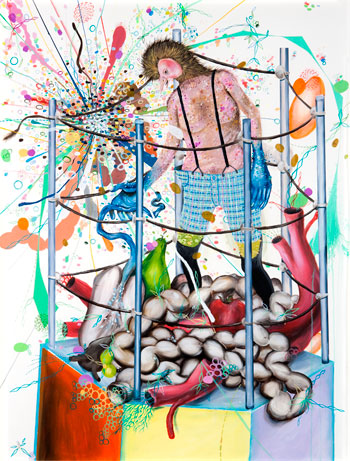 Continuing our coverage of artists participating in our upcoming 15th Anniversary Art Auction, a benefit presented by
Upper Playground
in collaboration with
Power House Project
of Detroit, we now present The Clayton Brothers (
Juxtapoz cover #103
):
For the past couple years we have seen Rob and Christian concentrate on either very ordinary people at extraordinary moments, or extraordinary people ambushed by the mundane. There have been psychics in the laundromat, astral awakenings in the sickroom, blue-legged spirits in the schoolhouse, right alongside average suburbanites caught in a maelstrom of cosmic de-lamination. And the Claytons understand these predicaments well. "A lot of times there's all of this amazing complicated stuff going on inside their heads. We see a lot of that in people around here. But who's to say that it's all internal?

They might also be calm, ordinary people, just trying to get by when they're hit by a UFO, or walking through dimensions we can't even see." On this subject, Christian added, "I think we end up externalizing interior states of mind just as much as we internalize the galactic stuff, the paradigm shifts. I mean, what makes a bigger impact, a nasty migraine, or a cosmic nebula? It all depends on where you're standing."

Some people, looking at a Clayton painting, see sadness in the eyes of their subjects. Others see them as enlightened, blessed with a vision, or caught up in some sort of metaphysical moment. Are these people stunned at the top of the chute to oblivion, or are they hapless wanderers at the moment of rapture, ready to dance to the music of cosmic cataclysm? It makes me wonder what the subjects would see in our eyes. Christian points out that, "People see what they want. It's always interesting for me and Rob to be told what's going on." –Excerpt from The Clayton Brothers' feature article by Michael Criley published in August 2009.
Read the entire article via digital subscription here.
Keep up on the artists participating in the Juxtapoz 15th Anniversary Art Auction at www.juxtapoz.com/auction