Juxtapoz 15th Anniversary Art Auction: Swoon
Juxtapoz // Monday, 24 Aug 2009
1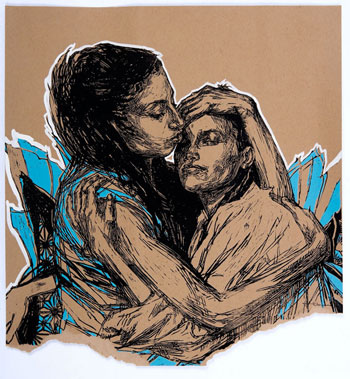 Things have been very busy around the Juxtapoz offices, largely in part due to our upcoming 15th Anniversary Art Auction. A benefit presented by Upper Playground in collaboration with Power House Project of Detroit, the art auction will help raise funds to purchase and renovate foreclosed and abandoned homes in the Detroit area.
The auction features original artwork from over 100 national and internationally renowned contemporary artists including: Swoon, CR Stecyk III, Shepard Fairey, Robert Williams, Todd Schorr, Estevan Oriol, Mister Cartoon, Doze Green, Todd "Reas" James, Thomas Campbell, Tim Biskup, KR, Big Daddy Roth, WK Interact, Clayton Brothers, Andrew Schoultz, James Jean, Ron English, David Choe, Mike Giant, Paul Insect, Jeremy Fish, Alex Pardee, Saber, David Ellis, Boogie, D*Face, Cody Hudson, Herbert Baglione, Craola, and more.

From November 9-19, 2009, the public will be able to bid on the artwork online. Additionally, in celebration of the auction and Juxtapoz's 15th anniversary, Upper Playground in collaboration with SA Studios will host an exclusive event in Los Angeles on November 14, 2009 at The Factory Place Arts Complex to view the featured artwork on display and meet with the contributing artists.

In order to shed further light on every artist who has generously contributed original artwork, we will feature each artist alongside his or her donated artwork that will be available for bidding in November. Our first contributing artist is Swoon.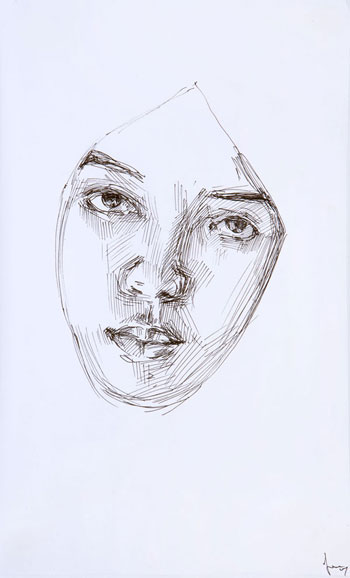 In late 2006, Juxtapoz was thrilled to hear that Swoon would indeed be the cover story of groundbreaking issue of Juxtapoz; the first issue of our redesign that premiered in February 2007 with issue #73. Our contributing editor, Joey Garfield, spent time with Swoon in her Brooklyn studio, on the heels of her Miss Rockaway Armada voyage on the Mississippi. To this day, her cover is one of my favorites we have ever had. It was folk, it was street, it was Brooklyn, it was the Mississippi. It had everything that Juxtapoz stood for over its previous 12 years.

Now, its 2009, and we are celebrating our 15th anniversary with a charity auction to benefit Power House Project in Detroit, and Swoon was the first person I wanted to ask a few questions to about the work she donated to the show. In a style that only she creates, Swoon donated two incredible original drawings, sure to be some of the most popular in the show. So, to kick off our 15th anniversary activities, here is Swoon . . . —Evan Pricco

Evan Pricco: What is upcoming for you in the next few months to close out 2009?

Swoon: A series of projects in Slovenia, Norway, and Berlin. The one in Berlin will be returning to the place where I first ever made an exhibition, so I'm, pretty excited about that. Urban-art.info is the place, it's run by this great guy named Juergen Gross who has been kind of the grandfather of the Berlin street art kids since at least 2001. Also I have a show in Portland, Maine with a bunch of the folks from the Serenissima Project, and hopefully my first trip to Japan!

Anything to tell us about the pieces that you contributed to the show?

One is a hand-painted artist proof from the fund raiser series we did for the Swimming Cities of Serenissima, and the other is a sketch for the last carving I just made of a young woman in Cairo.

Any interesting stories to tell about giving back, since this is a benefit show?

Mostly I just appreciate the opportunity to participate in giving back in these small ways because I have done so many large projects that required fund raising over the last few years. Part of feeling grateful to have recieved so much help from other artists as well as collectors and galleries and such, is knowing that it's important for me to try and rise to the call when it comes to me. Good luck with everything.
Read more on Swoon from her cover article, originally published in February 2007.

Keep up on the Juxtapoz 15th Anniversary Art Auction at www.juxtapoz.com/auction