Juxtapoz 15th Anniversary Art Auction: Shepard Fairey
Juxtapoz // Thursday, 22 Oct 2009
1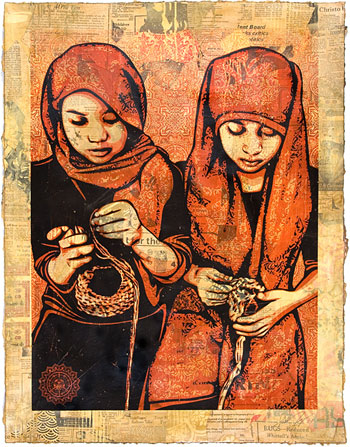 "Close Knit HPM"
Silkscreen and Mixed Media Collage
Hand Painted Multiple (HPM)
36" x 28"
Artist Proof

Shepard Fairey (Juxtapoz cover #82) hardly needs an introduction. This prolific street and studio artist is one of the most widely recognized and respected artists working today. We are proud to have him on board for our 15th Anniversary Big Payback Art Auction.
"I've made it really clear since I was first interviewed in 1994 that here's who I am, and I'm willing to say that anything you see out there might have been done by me. I don't think this is something that I should have to be secretive about, because I don't think there's anything wrong with it."


"For me, doing the posters and the street art that a 15-year-old walking down the street could see, that's just as important to me. They're always going to have to be happening simultaneously for me to be happy."

--Excerpts from Shepard Fairey in Juxtapoz #82, November 2007. Story by Steffie Nelson.
The Big Payback 15th Anniversary Art Auction artwork will be made available for bidding only online via CharityBuzz.com starting October 28th and ending November 20th, 2009.


All Auction info is online at www.juxtapoz.com/auction