Juxtapoz 15th Anniversary Art Auction: Shawn Barber
Juxtapoz // Tuesday, 10 Nov 2009
1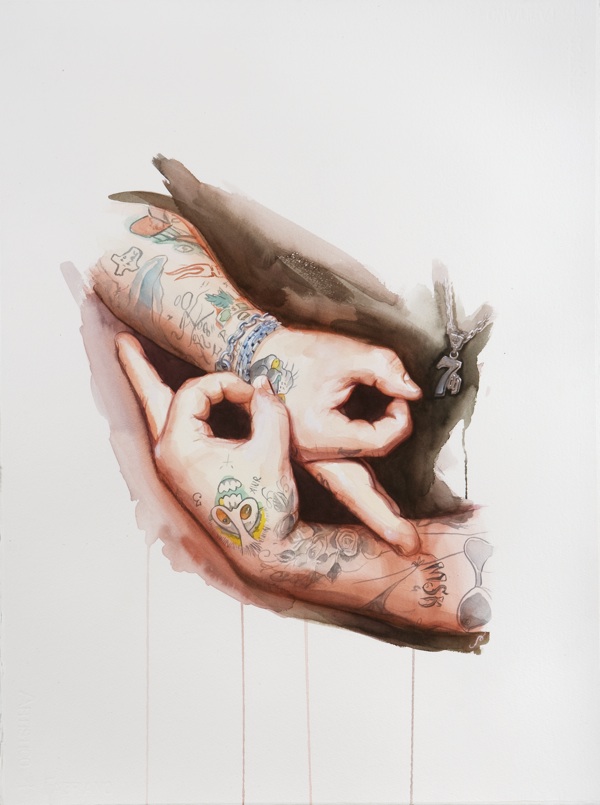 As we near closer and closer to our Juxtapoz 15th Anniversary Art Auction celebration in LA, we present to you our featured participating artist of the day: Shawn Barber.
Kat Van D: Living in Northern California, do you feel that your surroundings play an influential role on your art?
Shawn Barber: Living in SF has been the most influential inspiration for my art. The quality of progressive artists that live and work here is unbelievable.
San Franciscans are working-class folk. We play hard and we work hard. The City itself is mellow, the landscape is amazing, and the energy of the people is contagious. There are little to no distractions here and it allows me to be productive. I paint at Studio GSD and it doesn't get much better than that.
When you're looking for subjects to paint, what are some characteristics that make a good subject for your pieces?
The Tattooed Portraits series is documentation of artists that are tattooed, tattoo artists, their tools and materials. It really is an obsession. That's the starting point. I'm becoming more and more interested in the older generation of tattooers. The history and stories from the past are priceless. Everyone I've painted has been very generous with their time and energy. I can only honor them by doing the best I can with the time I have.
How do you handle negative criticism from the art world?
Criticism from the art world is something that will always be there. The past nine years I've been a professional illustrator. This reality, by some is seen as selling out. I've also taught at three different art schools the past eight years. These were both very conscious, deliberate choices.
I've been painting my own imagery with my own ideas before all of this and continue to do so. That's my art. By being a successful, working illustrator I learned how to finish pieces efficiently with deadlines. It forces me into making decisive decisions and has given me dexterity and control of my materials.

Teaching has helped me be self-critical, conscious of my thoughts and purpose, and has encouraged me in being aware. The struggle as an artist has been there the whole time. I've been slowly moving away from commercial work and quit teaching a few months ago to pursue painting and tattooing full time. I'm probably more critical of my art than anyone else and know where I'm going with it.
--Interview with Kat Van D, Excerpt from Juxtapoz #91, August 2008.
Big on this piece here.