Juxtapoz 15th Anniversary Art Auction: Robert Williams
Juxtapoz // Thursday, 29 Oct 2009
1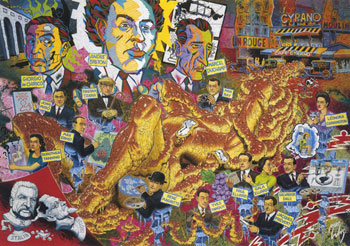 The Surrealist Nude Quiche Cadaver Reclining. Oil on canvas. 7 feet by 5 feet.

As our 15th Anniversary benefit auction is now in full swing and live, we are proud to have our founder's work, Mr Robert Williams, as one of the centerpieces of our auction. Its the best of timing: Our latest issue of Juxtapoz is dedicated to the artwork of Robert Williams, and he has a major solo show opening up at Tony Shafrazi Gallery in New York City this Saturday, October 31st, featuring over a half-decade of unseen, brand new works. The work will continue a tour at Cal-State Northridge in 2010.

We would like to thank our publisher, Gwynn Vitello, for donating this classic Robert painting for the Auction. You can bid on it here.



"I don't know if I was the right person at the right time, but you know, you have a lot of the same influences that I do: Comic books, B-movies, and a lot of salacious material that never really fit into the fine arts world. I was stuck in the art world in the early 1960s when abstract expressionism dominated and representational art was just considered the worst thing in the world, and was the product of morons that didn't have the capability to think of abstraction, or to think in two dimensions. So that's pretty much the world that you and I were in. But I was fortunate enough to get tied in with Roth where I could do representational work, and through Roth I met some underground cartoonists like Rick Griffin and Stanley Mouse, who later got me tied in with Crumb and S. Clay Wilson.

"When I got involved with the underground comic world I realized that these guys also face the same prejudices in art school. They were taught that they had to paint from the shoulder and not the wrist, and just use earth colors, the sloppier the better, the more emotional the better. And any kind of self-discipline was a sign of weakness. Being involved in comics was a wonderful and free situation, but nobody seemed to want to venture into that fine arts world. I kind of struggled along, pretending I was like somebody important doing representational paintings, and the thing was, the only thing I could find, the only group that I could relate to or would tolerate me, was this peer group of punk rock artists.

"That fostered Zombie Mystery Paintings that led on and on, especially in Los Angeles, also in San Francisco and New York, but especially LA. The book just slowly started a firestorm and more and more artists joined. But time went on, and more people jumped on the bandwagon, losing that underground ethic. I miss that really outlaw esprit de corps, that 'daring to do.'"


"Let me see if I can run off with the ball here with my new show. I've been in Los Angeles since 1963 and when I came into LA trying to be an artist and going to art school, there was an art philosophy already established here since the 1950s. It was an abstract expressionist philosophy that art had to express a truth. In other words if you painted with paint it had to look like paint, if you carved in wood it had to be gnarly. If you used metal it had to be all burnt up with a cutting torch. You had to be true to your medium. I was real facile and tight and wanted to defy the teachers and the mediums. I wanted to do ice sculptures out of dry ice, do the impossible with materials, which really went against the grain.

"I remember I was in an art lecture, in a large auditorium full of students and the teacher had some slides up on the wall. He had a big slide up there of Ruben's famous painting of Christ descending the cross. He exclaims to the class 'This is not a painting, this is a colored-in drawing!' I knew right then I was in deep shit… I knew I had a problem. And later on I went to Chouinard Art Institute and took a class in lithographing stones. I did this dynamic picture of a person standing in a spotlight with his arms up in the air and an arch of lightening going form one hand to the other, and the teacher said, 'This is illustration.'

"So from that point on I realized that gee, I've always figured I was a little retarded but I tried to do abstract work, it just didn't interest me. It couldn't breathe. It wasn't like giving birth to something. Then later it dawned on me what the situation really was: In reality you have to get a lot of people interested in art, and to get people interested in art they have to relate to art, and to relate to art they have to think of themselves as an artist. The majority of art is marketed on the fact that you're the genius too, you just haven't discovered it for yourself. So if you have some kind of real tight technique that's popular, man you're losing like 85% of the people. If you got some cute whizzy kind of thing that anyone could do, people say, "Oh I could have thought of that. I could have made a couple of blobs like that! This guy is a genius because he came up with it first…" That was the backbone of art since the 1950s. Getting people to vicariously join in. So it's just been an uphill fight since then.

"You've got comic books and all this wonderful stuff that came out during the.1950s that just had no chance at being 'art,' or could not be tied in with art. And you saw these very talented people that would never get any higher recognition. Wallace Wood committed suicide. Harvey Kurtzman died a nobody, and Basil Wolverton was just an insignificant character. All these people with all this rich imagination were just born at the wrong time."

--Excerpt from the latest issue of Juxtapoz, #106, November 2009. Interview by "Don" Ed Hardy.
All auction artwork is now available for bidding at http://www.CharityBuzz.com/Auctions/Juxtapoz/Catalog_Items.

The first wave of 100 art pieces will be available for bidding, now through November 20th, 2009.

The second wave of 40+ art pieces will go live for bidding on November 24th and close on December 20th, 2009.
All Auction info can be found at www.Juxtapoz.com/Auction