Juxtapoz 15th Anniversary Art Auction: Richard Colman
Juxtapoz // Friday, 11 Sep 2009
1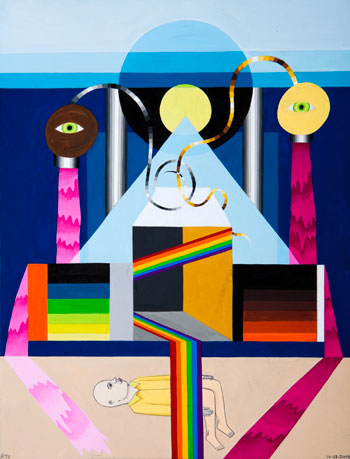 Richard Colman lives in San Francisco, so lucky for him, he just needed to roll himself down 3rd Street to the Juxtapoz offices to drop off his work for the 15th Anniversary Benefit Auction. And what a bit of work he brought to us: Two very nice original paintings for you, the viewer and audience, to put a bid down on. Good luck.

Evan Pricco: What do you like in the art world right now?

Richard Colman: I haven't really been that into looking at art lately. Mostly I have been watching a lot of documentaries about people. Some of them are about artists. Does that count?


What kind of work did you donate to Juxtapoz for the 15th show? Two pieces, right?

Yes, two small paintings. I guess they are the sort of paintings I usually make but a little different.


What else do you have going on? Shows, books, murals?

I've been redesigning my site for the past few weeks; it's looking rad and should be done soon. I have some stuff in a book you guys are putting out but I'm not sure when that will be out (Editor's note: Juxtapoz Dark Arts, out later this year. Keep that in mind). Some of the shows coming up are the Juxtapoz show, Art Copenhagen in September, Infinity; a group show curated by Andrew Schoultz at the Scion gallery in L.A. October 10th, a solo show with KRETS in Malmo, Sweden October 17th, an auction benefiting DIFFA with VIPP October 28th in New York, and I have a solo show coming up at New Image Art in L.A. scheduled for March.

Stay up to date on all Auction goings on at www.juxtapoz.com/auction