Juxtapoz 15th Anniversary Art Auction: Rene Almanza
Juxtapoz // Monday, 02 Nov 2009
1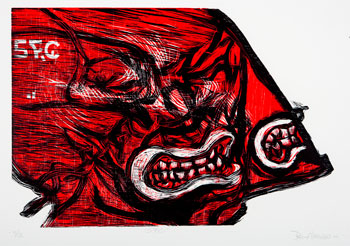 Rene Almanza is a Mexican artist whose imagery is as complex as it is meaningful. Photos of his work do not do it justice, so we'll just tell you: Rene Almanza is the real deal.


"The work presented by Rene Almanza is that of introspection, and at the same time an assiduous glance to his surroundings. Almanza considers himself a half-breed, and so are his images. Almanza himself is a mixture of everything, born in an industrial reality that consumes everything. He captures this in his lines, reflecting the metaphysical and the anecdotage, fleeing from all labels. The 'it is' and 'it isn't it' escapes from the definition because Almanza knows that this brings up the static. It is by this that the work isn't satisfied with being observed. It takes a conscience and confronts us, challenges, and returns the glance back." –Francisco Benitez

Rene Almanza profile, Juxtapoz #98
Bid on this piece, 57 C. Block print on paper series # 3/18. 30" x 22", 2009, now here.
All auction artwork is now available for bidding at http://www.CharityBuzz.com/Auctions/Juxtapoz/Catalog_Items.

The first wave of 100 art pieces will be available for bidding, now through November 20th, 2009.

The second wave of 40+ art pieces will go live for bidding on November 24th and close on December 20th, 2009.
All Auction info can be found at www.Juxtapoz.com/Auction