Juxtapoz 15th Anniversary Art Auction: Patrick Martinez
Juxtapoz // Sunday, 11 Oct 2009
1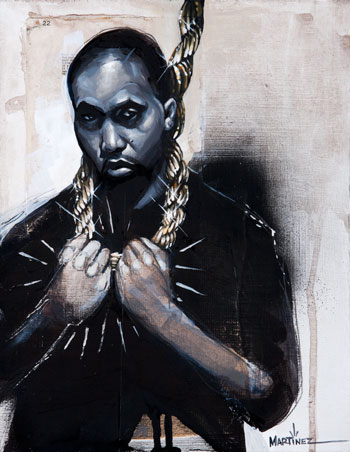 It's been said that Patrick Martinez' work sheds light on "the phenomenology of his surroundings." As evidenced by his answers to my questions below, Patrick's personal philosophy clearly embodies the very meaning of phenomenology—as his keen self-awareness and interest in the development of human consciousness reveals itself in his work. Beyond being a good guy, Patrick Martinez is a great artist pleased to share his talent in the name of rebuilding Detroit.

Erin Dyer: Have you ever participated in a charity art auction before?

Patrick Martinez: Yes, many. I have donated my time and art to the Heart Project in Los Angeles and Stoked LA. Those are the main two. I'm down for charities, especially if it deals with the youth, and for that matter troubled youth. I think that it's very important to invest in the youth, as well as giving back to your community and the people that live in it.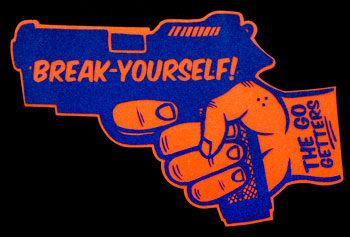 What compelled you to participate in this show specifically?

I thought the idea was mind blowing. To buy four-to-five homes and bring them back to life with some art, color, and design from the participating artists in the auction, then on top of that help out some needy families? It's a great idea. Especially in these times, with people feeling the hard cold effects of the recession. Whatever I can do to help inject a little life back into a portion of abandoned Detroit neighborhoods I will do it. I'm glad that I can even help the situation in this way.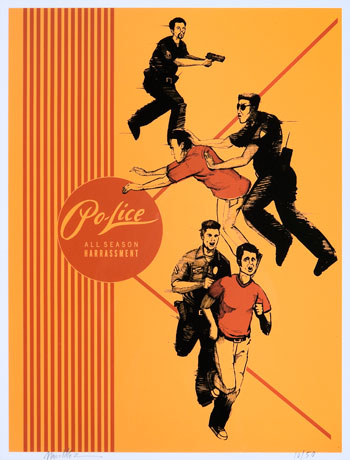 What is the meaning behind your original work?

There are three. The first one is the PO-LICE print. It's an image that I created that deals with the youth and authority. I took a Pee-Chee folder, which is something that is associated with most American schools, and added some new elements to create a visual that tackles the subject.

The second image is the Go Getters foam hand. This was inspired by the current recession. I took a piece of Americana (number one foam hand) and created a recession remix version of it. I placed a gun in the hand, which was once empty. Desperate times call for desperate measures.

The third image is a portrait of Nas. The concept of the piece was the success of rap music was suffocating the art form. I painted the portrait of the Queens poet breaking out of a noose made from a fat platinum rope chain, which is around his neck.
All Auction info can be found at: www.juxtapoz.com/Auction