Juxtapoz 15th Anniversary Art Auction: Morning Breath
Juxtapoz // Tuesday, 27 Oct 2009
1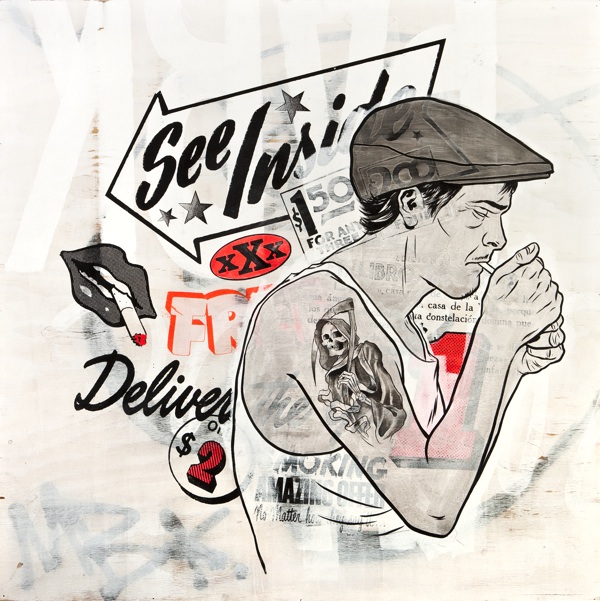 One look at this art collective's silkscreen and acrylic works, made with an approachable DIY aesthetic, answers the question, "Who would ever be into Morning Breath?
Morning Breath, the moniker that Noto and Cunningham adopted back in mid-2002 for their independent art and design studio, has been a mode for the pair to leave a footprint in the commercial art world, while at the same time pursuing their grimy, lo-fi personal work.
Since its inception, Morning Breath's reputation for producing high-quality work has provided a steady stream of client-based projects, primarily album packaging and design for high-profile clients like Queens of the Stone Age, De La Soul, and Jay-Z. In turn, this avenue has allowed Noto and Cunningham the freedom to push the boundaries of their personal work.
Talking with Noto and Cunningham, discloses the eerie similarity of their tastes and influences.
The late '70s and early '80s are an era of particular interest. Perhaps because they were both born in 1971 and grew up sniffing glue and racking paint, going to punk rock shows, and listening to hip-hop.
Or perhaps they just share a bizarre obsession with BMX bikes, comic books, and vintage typography that only they understand.
Whatever the case, Morning Breath's cut-and-paste, DIY aesthetic is as much about 1970s nostalgia and pop culture tribute as it is bar stool humor and social observation.
Cunningham often refers to the vision of their work as "an adult's world seen through a child's eyes." And because the artwork is devoid of hipster lingo and cooler-than-you references, there is a certain level of honesty and quality that's absent from the work of many of their contemporaries.
Excerpt from Juxtapoz #77, June 2007. Text by Matthew Newton.
For more info on the Juxtapoz 15th Anniversary Art Auction, visit www.juxtapoz.com/auction