Juxtapoz 15th Anniversary Art Auction: Kehinde Wiley
Juxtapoz // Thursday, 24 Sep 2009
1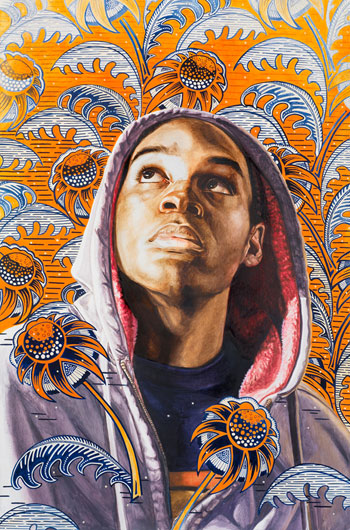 We proudly announce the addition of Kehinde Wiley to our growing list of artists contributing to our 15th Anniversary Art Auction, The Big Payback. Wiley's work straddles both modern and classic eras in a way uniquely his own for one stunning outcome.

"Kehinde Wiley's works reference specific paintings by Titian and Tiepolo, but he incorporates a range of art historical and vernacular styles in his paintings, from the French Rococo to the contemporary urban street.

"Wiley collapses history and style into a uniquely contemporary vision. He describes his approach as 'interrogating the notion of the master painter, at once critical and complicit.' He makes figurative paintings that 'quote historical sources and position young black men within that field of power.' His 'slightly heroic' figures are depicted in poses of power and spiritual awakening. He deliberately mixes images of power and spirituality, using them as a filter in the portrayal of masculinity.
--Via Deitch Projects

Kehinde Wiley piece is being donated by Robert & Tilton Gallery.
Stay updated on The Big Payback Auction at www.juxtapoz.com/auction