Juxtapoz 15th Anniversary Art Auction: Joey Garfield
Juxtapoz // Thursday, 27 Aug 2009
1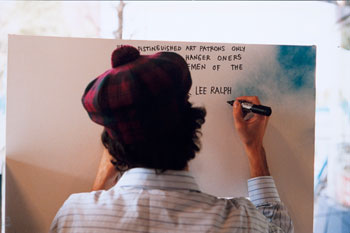 The Gonz in Japan
2001 12" x 8"
Joey Garfield is a photographer, documentarian, music video director, writer, and artist. He has been a part of Beautiful Losers and the Barnstormers. He is also a contributing editor to Juxtapoz Magazine, writing and photographing cover stories of Swoon, David Ellis, WK Interact, as well as features on DZINE, Mark Gonazles, Cody Hudson, Chris Johanson, and will soon be curating the entire December 2009 issue of Jux (more on that later).

For the 15th Anniversary show, Joey donated photos from his times out in the field, documenting artists and some of the pinnacle events in contemporary art over the past 15 years. And he was in Ferris Bueller's Day Off, so we have to ask . . . —Evan Pricco

Evan Pricco: Talk about the photos you turned in for the Juxtapoz show? Where, how, what, why?

Joey Garfield: These photos are from an epic trip to Japan I took in 2001 with a group of friends and artists who were invited to design t-shirts, exhibit work, and create general mayhem all over Tokyo. The more mayhem we created the more t-shirts they sold. It felt like we were larger than life monsters attacking Tokyo, so the stuff I am putting in the benefit is based on that: Monsters and destruction, and then one photo I just like of Mark Gonzales.

The experience over there was absolutely crazy and the collection of people even crazier: Phil Frost, Mark Gonzales, Chris Johanson, Barry McGee, Margaret Kilgallen, Steve Powers, Todd James, Thomas Campbell… the list goes on. I shot mostly video footage there, which was used in Cheryl Dunn's film Creative Life Store and in the film Beautiful Losers. I only had time for a few personal photos and I haven't shown them to anybody really, until now.

You have contributed a bunch of stories and photos to Juxtapoz over the past three years. Swoon, David Ellis, Chris Johanson, DZINE, and a few more. Any good stories to tell?

This may be a you-should-have-been-there moment but after I interviewed DZINE in Chicago we walked out of the studio and to the corner. This young guy walks by us looking tough-like but also we could tell he was kind of slow in the head. Anyway at that same moment a Doritos truck drives past us and pulls over right in front of the building this kid is walking towards. He yells out real loud and confident "Aaaw, yeah…Doritos!" It was as if he dreamed that one day a Doritos truck would drive up to his house and deliver him a bag and this was the day it came true. Dzine and I cracked up and say it to each other whenever we meet.

Having Swoon on the cover of Juxtapoz was a highlight for me. She fills the room with her all-around positive vibe. I was amped to see her got rep on the cover and I was amped to get a picture on the cover. It was my first assignment for Jux. This is the magazine that turned me on to so much when I was younger. I am psyched to be able to now be one of the turner on-ers.

Living in Chicago, how do you feel about the passing of John Hughes? You were in one of his films...

Dang you are reaching back into the files… yeah Ferris Buelear. I say in the movie, "Shit I hope he doesn't' die, I can't handle summer school." I thought John Hughes was laid back and cool because he hung out with us kids rather than the film crew. I really didn't understand acting or filmmaking or much of anything back then. But I remember being frustrated having to wait so long just to do our scene while watching the lighting guys, grips, camera operators, and art department running around climbing on gear and having all the fun. I was like "I want to do what those guys are doing." So I guess I can credit John Hughes for getting me out of "acting" and interested in film making which brought me into taking pictures, which brings me here.

I was a big thrifter back then trying to build an identity that was not prepped out. I would rock bowling shirts, bomber jackets, and old man shoes despite family and peer criticism. I would sneak into my older brothers' stuff and wear their shit and put it back before they got home stuff like that. Anyway, for Ferris Bueller's I snuck my older brothers' friend's high school letter jacket that he had borrowed to the set without telling my brother. John Hughes was like, "Don't bother changing Joey's look, he's fine as is." That was a totally helpful confidence builder in regards to style points but months later when the film came out my brother was pissed.

What are you working on to close 2009, besides all the Juxtapoz work?

Philly Love Letters. I am working on a film with Steve Powers in Philadelphia. He is painting a continuous love letter across the elevated train lines of the city and we are making a film about that. Some are the same spots he painted as ESPO back in the day. We have been climbing on rooftops for weeks and I wish I knew parkour or whatever they call that French urban climbing sport.

Any good stories about charities or benefits that you want to pass on?

Being selfish is easy so try to participate in positive things. You never know how far and wide your gesture will reach, and hey… you could win a soccer ball in a raffle.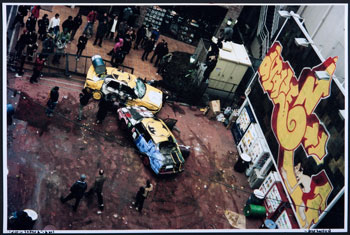 Twist in Japan 1; 2001 18" x 12"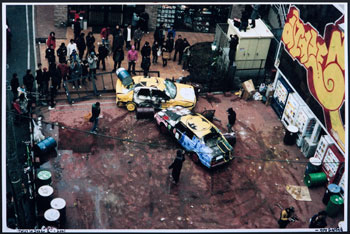 Twist in Japan 2; 2001 18" x 12"
Make sure to keep up on the Juxtapoz 15th Anniversary Auction at www.juxtapoz.com/auction