Juxtapoz 15th Anniversary Art Auction: Jay Howell
Juxtapoz // Saturday, 31 Oct 2009
1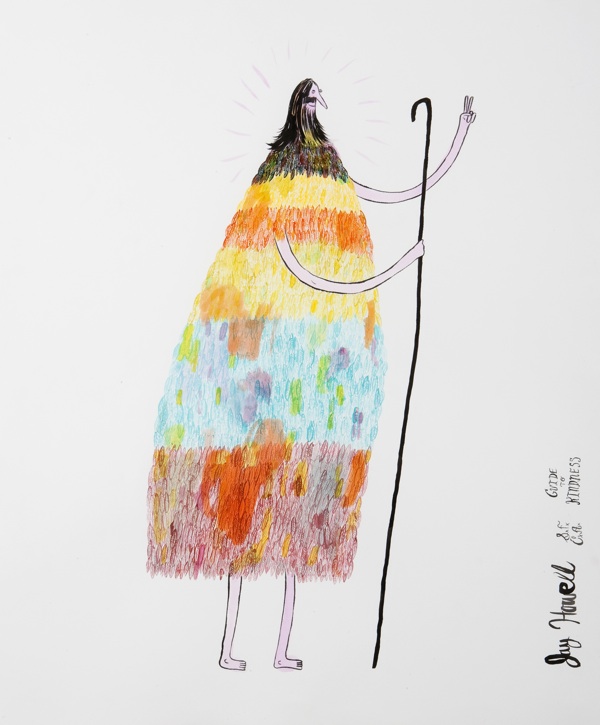 We can always count on fellow San Franciscan Jay Howell to lighten the mood a bit. For our Juxtapoz 15th Anniversary Art Auction, Jay kindly donated his piece, Guide to Kindness.
Elise Hennigan: Thanks for donating. This piece makes me smile. What can you tell us about "Guide to Kindness"?
Jay Howell: It makes me smile too.  It's just a kind dude directing you to the way of a kind trip and a peaceful moment.
Actually, humor is a common characteristic of most of your work. Is spreading good cheer the goal?
Yes. That's the only goal. I try to put a good vibe in almost every piece.
Besides creating art, what else do you like to get into?
Playing records at bars, I help out over at 111 Minna curating sometimes, and then tons of mischief and hi-jinks.
Beverage of choice?
All the beers there is.
What is your process like? Do you visualize the completed piece before you create it or just let it flow?
The ideas are the hard part. I'm crushed without them. I can't let it flow at all. It's all set up and thought about for days. Every character is me or a version of me talking or doing stuff. I try to live my life the same as my dream life or my drawing life if you wanna call it that.
Working on anything exciting to round out 2009/start out 2010?
Yes. February at Parklife with Ferris, Porous and Skinner. My solo show in May at the A440 gallery in the 49 Geary building. Clothes with Rebel8 ( stoked! ) and a whole clothing line with the Lifetime collective clothing company which I cannot wait to come out so bad. (like shirts, flannels, jean vests…everything).
2010 hasn't happened yet and it's so hectic already. I love the future.
Bid on Jay Howell's Guide to Kindness here, up until November 20, 2009.
Check out www.juxtapoz.com/auction for all auction info.