Juxtapoz 15th Anniversary Art Auction: Henry Lewis
Juxtapoz // Thursday, 03 Dec 2009
1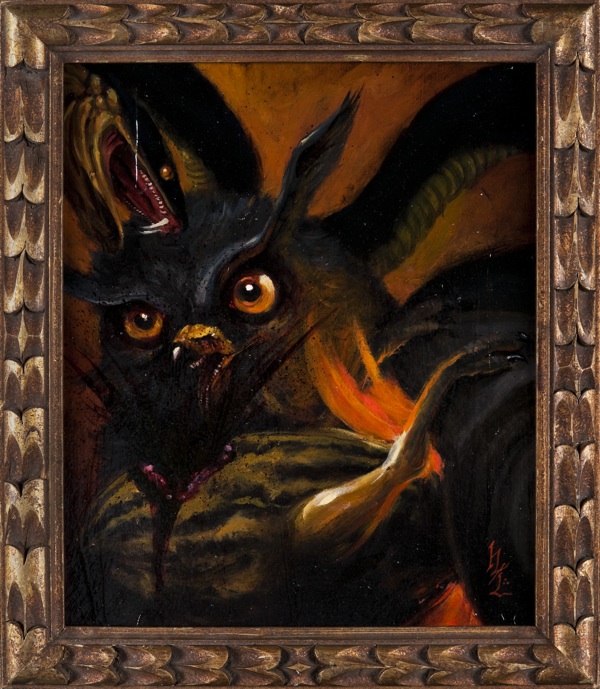 Henry Lewis is on the come up. He's at the very top of the tattoo game and his fine art has evolved into an insane hybrid of styles and mediums while enlarging on the themes and iconography that have made his work so distinctive. Mr. Lewis remains the same, though, unabashed and modest despite his flamboyant persona.—William Haugh
William Haugh: I've always been a big subscriber to the theory that how you live your life is your art, and you very much exemplify that, in terms of how you dress, where you live…Any thoughts on that?
Henry Lewis: I guess my dad always told me "Don't be a carbon copy of the next man, be your own person." So, …the way I dress? I don't really give a fuck, I wear skunk tails.
My living quarters? Sixth Street area—I like it down here. It's grimy. It's dirty as shit. I actually feel like I live in a city. I love San Francisco, that's one of my favorite areas even though it's shitty as fuck…[this is punctuated by loud background noise of cars.] it sounds like this everyday, times 10. Come get me!
Excerpt from interview with William Haugh, Juxtapoz #103, August 09
Bid on this piece by Henry Lewis here
Scope on more details on the Juxtapoz 15th Anniversary Art Auction at www.juxtapoz.com/auction