Juxtapoz 15th Anniversary Art Auction: Gary Baseman
Juxtapoz // Sunday, 29 Nov 2009
1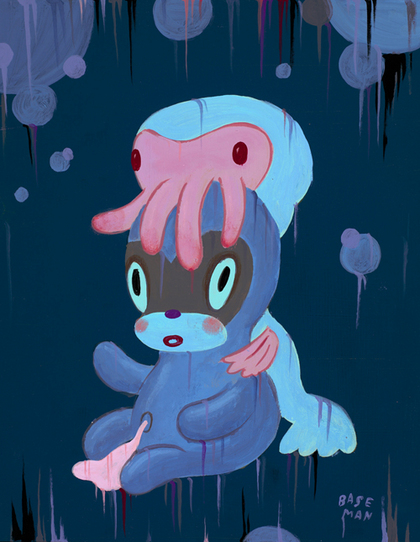 "The Melding Of The Minds". Acrylic on wood panel, 11" x 14", 2009. Donated by: Gary Baseman (Courtesy of Corey Helford Gallery)
Gary Baseman often works in the realm of mystical existence. His characters are iconic. Sticky sweet (seriously—several have goo running down their belly-buttons) and cutesy at first but laced with a dark undertones; Baseman's work evokes the interplay of power and passion, of laughter and joy from a different dimension. His pieces, like this beaut that he donated for the Jux 15th Anniversary Art Auction, propels the viewer into an atmosphere of desire where insecurities and fears are destroyed.—Elise Hennigan
Elise Hennigan: When did you first start creating art? When did you realize that you wanted to be an artist?
Gary Baseman: I don't remember a time when I didn't create art or didn't perceive myself as an artist.
I remember my dad, an electrician, taking me out on jobs with him when I was like 8, and trying to show me how to rewire something, and how I had no interest and would tell him, "Dad, I don't need to learn this, I am an artist." Damn, I wish I knew now how to re-wire things.
I'm self-taught, so my style has been developing my whole life. Art just exploded into my whole existence. I would go to Sav-On drugs on Fairfax and 3rd St, that was my art store as a kid, and buy sketch pads and El Marko markers and I would have a board that I would lay on my twin bed and draw for hours and hours.
My cousins told me a few years ago, they thought I had some kind of emotional, mental problem, spending so much time drawing. I lived and breathed art. I still do. I was a precocious child when it came to art, but I was very immature in every other aspect of my life. I guess I still am. Growing up in Hollywood, Pop Culture was everywhere. And I loved it. I remember watching old 30s Warner Bros, Fleischer Bros., and Disney Cartoons and thinking they were the perfection. But when it came to going to the university, I never studied art formally. I wanted a liberal arts education. I somehow thought, one cannot learn art or, at least, your own personal voice, in school.
After college, I went through a great deal of insecurity and fear of failing as an artist. It took a few years of being truly miserable trying to compromise with thoughts of going to Law School or working in Advertising before I made the decision to put myself out there to be an professional artist and show my portfolio and risk rejection.
So in my mid-twenties is when I made the true decision to live my life as an artist.
Being an artist to me is being alive. All I do is create. I love to live in my own surreal world and interact with the creatures that I create. I draw all the time. I carry a sketchbook everywhere I go. I draw in a restaurant, in a dentist chair, with a bank teller. I think my cousins were right. I probably do have an emotional, mental problem.
When you aren't painting, what else occupies your time?
Drawing. Running. Eating. Fucking. Listening. Swimming. Petting. Driving. Drinking. Dancing. Doing. Watching. Sleeping. Scratching. Shitting. Pissing. Hoping. Dreaming. Wanting. Playing. Snacking. Scratching. Biting. Cracking. Inspiring. Laughing. Teasing. Holding. Hugging. Stretching. Picking. Moving. Packing. Tasting. Creating. Approving. Researching. Sniffing. Risking. Trusting. Finding. Giving. Taking. Nuzzling. Guzzling. Muzzling. And Breathing. (I lied, I always forget to breathe.)
Excerpt from Juxtapoz.com interview with Elise Hennigan, April 2009
Bid on this piece here.
More details at www.juxtapoz.com/auction