Juxtapoz 15th Anniversary Art Auction: Ed Templeton
Juxtapoz // Friday, 30 Oct 2009
1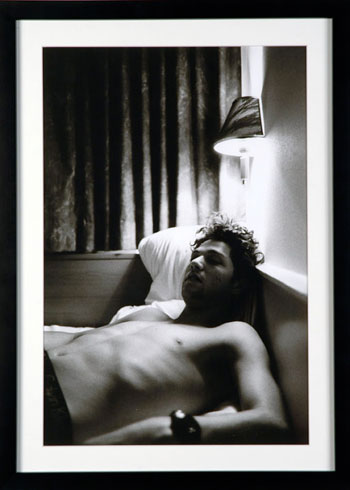 Bam Under the Light. Black and white photograph with text, 14.5" x 20", 1998-1999/2006.

Ed Templeton is a master of his own universe. The cool thing about that universe is that Ed is not afraid to share its intricacies with the public eye. At times painful, humorous, beautiful, gruesome, and sometimes all of the above simultaneously, there is something magical about Ed and his work that we love.



Kelly D Williams: One time I was doing an art show in Long Beach, and I walked outside of the gallery to get some fresh air. I look across the street and I see Matt Bennett sitting out on his porch drinking water from a milk jug. It was July. He came over to the exhibit and we chatted a little; he seemed very nice. Who do you pick on the most on the team?

Ed Templeton: It probably wasn't water. Everyone gets picked on but Nick, he is too cool to be picked on. J-Lay, Josh, Kevin, our award winning filmer, everyone is fair game.


Nick does seem pretty savvy. I've heard that all the foreign chicks really stick to Nick. So, you've had some of the grossest injuries in skateboarding. Like total neck trauma sort of stuff. What was the longest period of time that you have been off a skateboard?

The broken neck was 6 months of no skating. That was the longest. It was in the year 2000. I just did two months of no skating last year without being hurt because of an exhibition I needed to work on in LA. I just shattered my fingertip a few days ago, and have to have my first ever surgery to get pins put in it. And I wasn't even skating.


Ouch, your fingertip? So, tell me Ed… Being a dude, I happen to have a schlong. If I asked you to do a portrait of me or me and my wife, could you leave my wiener out of it?

Not every portrait is a nude; I do ones with clothing on too. Or are you asking to pose nude and have me paint out your dick and balls? You want to be a hermaphrodite?


Sounds exciting! Do you have any funny, awesome, or awesomely funny stories about anyone in the Tum Yeto camp? Perhaps some sweetness on Swank?

I know Tod Swank used to make zines. He got in a fight with Ken Park once, and Ken Park backwards is Crap-Neck. Swank also did a McTwist. I could write the most epic, scandal filled tell-all book about the entire skate industry, but it would be burning a massive bridge with all of the people that made my life worth living. So I guess those stories will go untold.
--Excerpt from interview with Ed Templeton by Kelly D Williams, posted on Juxtapoz.com August 21st, 2009. Read the full interview now. Part 1 is here. Part 2 is here.


Bid on this Bam Under the Light Ed Templeton piece now here.

All auction artwork is now available for bidding at http://www.CharityBuzz.com/Auctions/Juxtapoz/Catalog_Items.

The first wave of 100 art pieces will be available for bidding, now through November 20th, 2009.

The second wave of 40+ art pieces will go live for bidding on November 24th and close on December 20th, 2009.
All Auction info can be found at
www.Juxtapoz.com/Auction