Juxtapoz 15th Anniversary Art Auction: Ed Big Daddy Roth
Juxtapoz // Thursday, 01 Oct 2009
1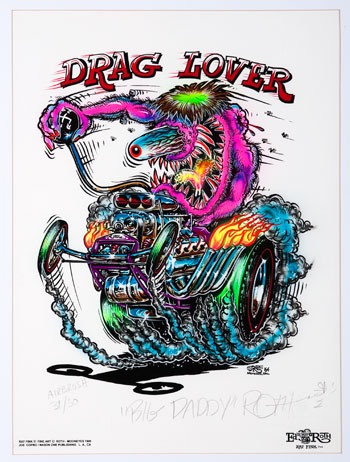 Ed "Big Daddy" Roth has had an indelible influence on the world of lowbrow art and Kustom Kulture. This Southern California native is best known for his grotesque caricatures and for refining the gritty world of car art into the respected genre hot rodding now enjoys. It's our pleasure to announce an original Roth piece will be part of the Juxtapoz 15th Anniversary Art Auction.

"What people have lost sight of is the power of group achievement. Look at the pyramids, now that's art. The big artisans to me are the people responsible fore the temples in South America, the Cheops Pyramid, the fences at Machu Picchu and the head on Easter Island. The mysteries about how they did are part of the things. What makes those kinds of things art is that the more we look at them the more we unravel. Compare Chichen Itza to the Sistine Chapel. Michelangelo was working alone. What artists have lost today is the art of getting everybody together. In Chichen Itza there are no straight lines, the blocks are complex shapes. The temples are the product of love. Working together with a common goal, you can produce so much more. . . ."

--Excerpts from the Premiere Issue of Juxtapoz, Winter 2004. Text by CR Stecyk III.
Big Daddy Roth, 1932-2001.