Juxtapoz 15th Anniversary Art Auction: Dennis McNett
Juxtapoz // Friday, 09 Oct 2009
1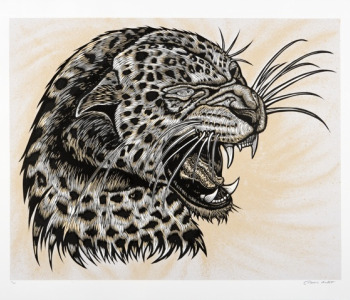 Snow Leopard Head
Artist Dennis McNett generously donated four prints to "The Big Payback", the Juxtapoz 15th Anniversary Art Auction, with proceeds doing to the Power House Project of Detroit. His most recent works, currently on display at Space 1026 in Philadelphia are a psychedelic take on mythology, centering around his signature Wolfbat. Hear about the pieces from the horse's…er, Wolfbat's…mouth here.
Elise Hennigan: What can you tell us about the pieces that you donated for the auction?
Dennis McNett: With Living Dead Tree I wanted to try making some trees that looked as vital and had as much fury as some of the other characters I use like wolves, eagles, snakes, etc. This is a dead tree that looks alive. Snow Leopard Head…I was obsessed with snow leopards after seeing Planet Earth's first ever footage of them. They are elusive, rarely seen and move like water down cliff sides while hunting mountain goats. Nearly mythical creatures, these animals are beauty near extinction. Pan Goat is an image of the character Pan. Pan was known to invoke the sensation of being awe stuck by nature. I experienced that sensation over and over while traveling and seeing nature so wanted to do a few images in his spirit. The Fiery Eagle…is just a fiery eagle.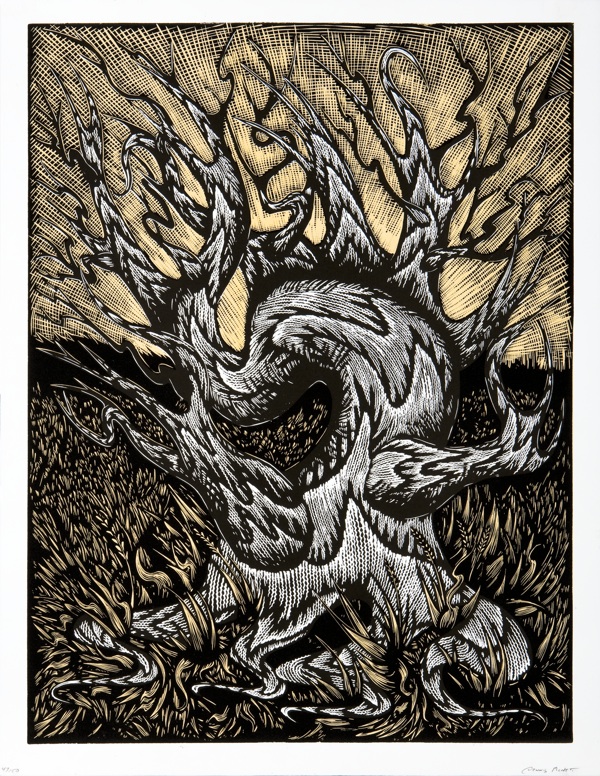 Living Dead Tree
Sorry, couldn't resist this one: What's a Wolfbat? Where did the idea come from?
Wolfbats are spirits… they are kin to the great wolf Fenris who was wrongfully bond by the gods. I started a sort of mythology of my own by resurrecting Fenris. After Fenris slayed Odin on the battlefield of Ragnarok (the battle of the Gods and Giants) he was in turn killed by Odin's son Vitar. I rewrote/added an ending where his sister Hel resurrects Fenris and raises a new army.
Wolfbats wake the sleeping spirit of people who need to be woken, show them their inner strength, and the things that are right in front of them that are important. That is their reason for coming into our dimension and world.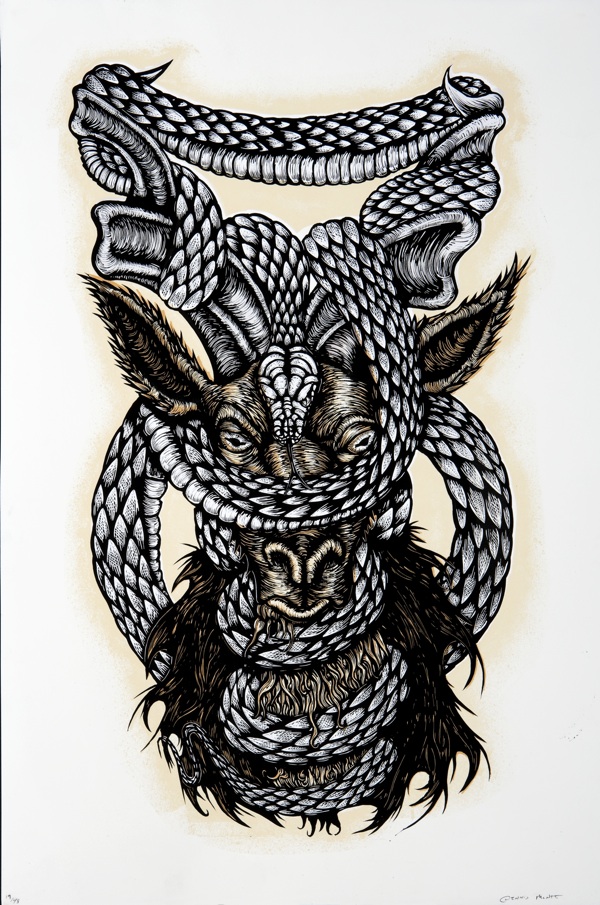 Pan Goat
What appeals to you about creating 3 dimensional works of art as opposed to traditional paintings?
I like doing woodcuts, drawing, painting, sculpting…everything. Sculpture is fun because I can make a creature that is right there with you, looking at you with teeth grinning, taking up space as it snarls, and it adds to an environment and installation to have something lurking toward you or swooping down at you in the space.
GWAR has been an inspiration for years with the masks and 3D work…Gwar is underrated for the amount of creative energy put into their theatrics, longevity (collaborative art group for over 20 years), and mastery of the mediums of story telling, costume making, set design, character development, album cover art, comics, metal music, etc… whether you like their aesthetic or not.
You have two shows going on right now…are you planning on taking a break when they wrap up? What's the next step?
I'm heading to Oklahoma next to build a big dragon with some students out there and then after we parade it around town we are going to set it on fire. I am being paid to do this. When I get back I am just going to crank out some new work.... maybe hang some Wolfbat sculptures around the city. Life is good today.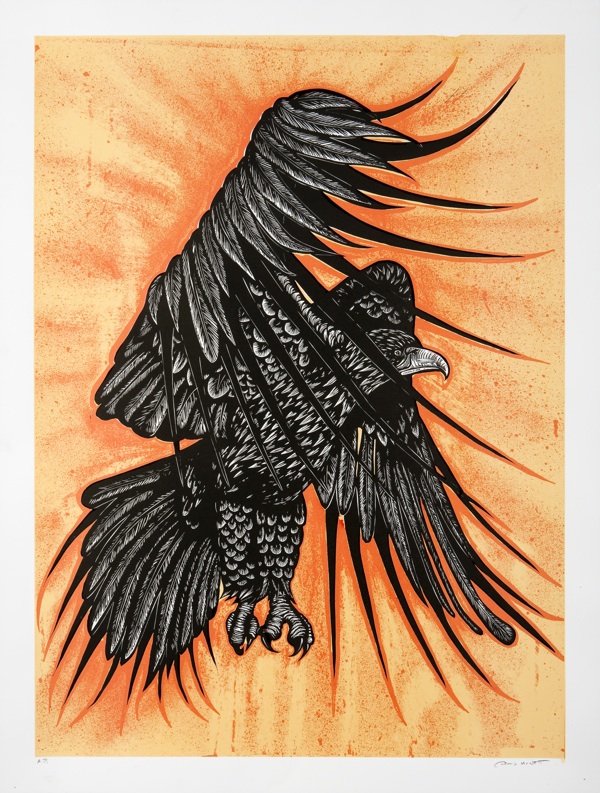 Fiery Eagle
For more info on the Juxtapoz 15th Anniversary Benefit Art Auction, check out: www.juxtapoz.com/auction