Juxtapoz 15th Anniversary Art Auction: David Ellis
Juxtapoz // Thursday, 22 Oct 2009
1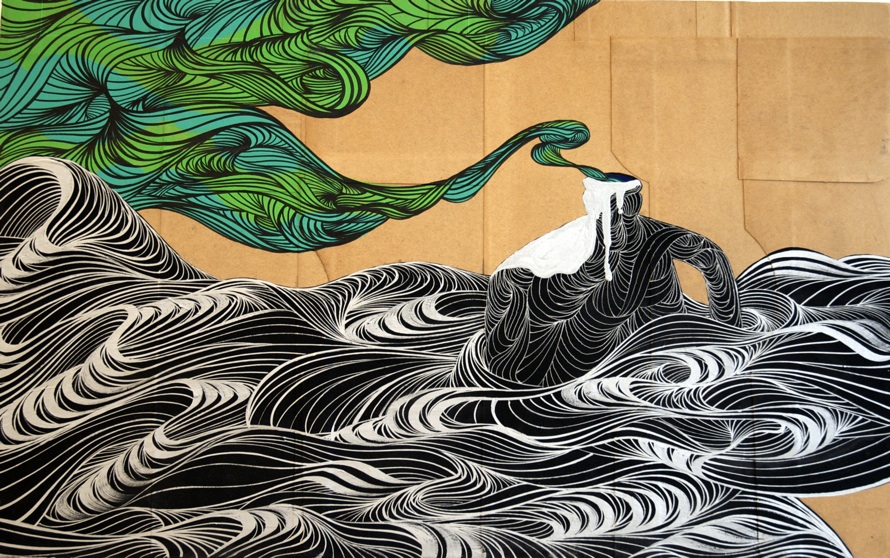 As you are all probably aware, we are gearing up for the Juxtapoz 15th Anniversary Art Auction, which will feature a magnitude of pieces donated by an impressive roster and galleries, for the benefit of The Power House Project of Detroit.
Today we feature a stunning David Ellis painting, generously donated by New Image Gallery who recently housed the piece during his solo show at the gallery. We caught up with the director of New Image Gallery, Marsea Goldberg, for more on piece.
Elise Hennigan: "Constant Flow", the recent exhibition at New Image Gallery brought the fluidity and motion of David Ellis' works to the spotlight; what can you tell us about the piece from this exhibit that you donated for the Juxtapoz 15th Anniversary Art Auction?
Marsea Goldberg: We chose this piece because it was not atypical of David Ellis. It's palette is green-blue and it contained figurative elements as well as his beautiful flowing painted style.
When did you first become acquainted with David Ellis' work?
I was acquainted with his work from when he was a barn stormer. I met David when Faile brought him in for the "Burning House" collaboration which also included Swoon and Faile.
How have you seen his work progress since then?
David's painting has always been amazing his style naturally oozes out of him. Ellis' sculptural work, installation, video and sound work have become more complicated; premeditated chaos brilliantly planned while retaining a haphazard and wonderful magic.
What are some common qualities shared by the artists that you work with at New Image Gallery?
Passion; temperament of steel; perseverance; talent; intelligence; unpretentiousness; and a rebel roar!
For more information on the auction, visit: www.juxtapoz.com/auction