Juxtapoz 15th Anniversary Art Auction: David Choe
Juxtapoz // Monday, 23 Nov 2009
1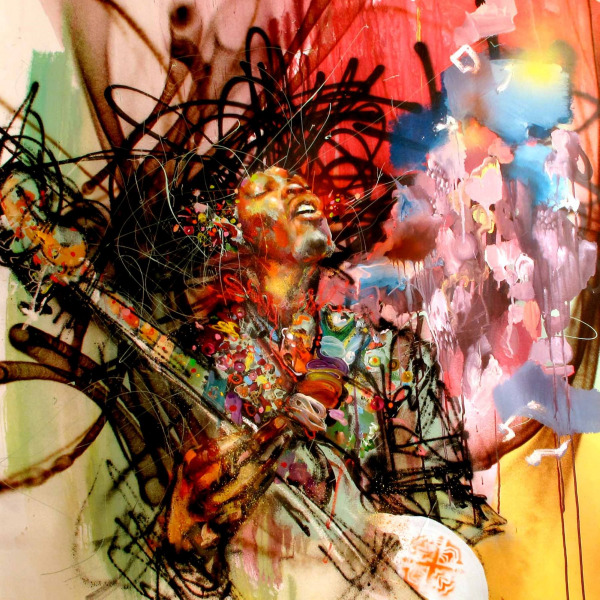 This extremely limited print is of the legend Jimi Hendrix, in all his glory and inspired madness. By David Choe. Printers Proof 6 of 8.
Today, to kick off the second installment of the Juxtapoz 15th Anniversary Art Auction, we get down and dirty with artist David Choe. Images of sex and violence, heartbreak, and despair--all infused with a dark sense of humor--are only a sampling of themes that permeate his work.
Matthew Newton: When did you first realize that art was something that you had to pursue?
David Choe: [My family] wasn't poor, but we didn't have much, so this started me down two very different paths to achieve the same goal: to get shit. The first path [was] art. Television influenced my earliest drawings. Since I knew we couldn't afford toys, I'd draw my favorite He-man, GI Joe, Transformers, and Super Friends on paper and cut them out and play with them. Since I knew they were gonna be my toys I tried to make them as real as possible.
The next path was crime. I started shoplifting. [However], in the last two years I've completely left the crime world behind except for three things: I still download music illegally, I ask for water at a [fast food] restaurant and get soda, and I buy one movie ticket and watch four.
Art wins out in the end. It was my first lover. I remember sneaking into the adult section of a magazine stand when I [just] started to get fur on my dick. My head was on fire from the images that I saw. I ran home immediately and knocked over my Crayola box desperately searching for peach and pink—furiously trying to recreate what I just saw, and I started to touch myself from my own art.
My art has gotten me thrown in jail. It also saved me. When I [was] in jail and the Japanese thugs wanted to beat my ass, I would draw them like Asian Tom Cruises and I had new best friends. In Africa, when the village got restless, I hushed the entire tribe by spray painting…on a mud wall. Time and time again, it's been my greatest asset.
Your style is constantly evolving, but it seems graffiti is always a definitive undercurrent. How has the role that graffiti plays in your work changed over the years?
I never stopped graffiti; it influences my fine art, with the quickness and immediacy of it. I use oil paint like it's acrylic, because I can't wait for it to dry. I love fucking with mediums and seeing how they react to different mediums, but I always considered graffiti separate from my art. I always looked at it as destructive, anarchist, political, spiritual, and mostly just fun. It was a release from being cooped up, hunched over drawing tiny drawings with rapidographs and mechanical pencils. Fuck everything I'm doing at home, I'm going out late at night to have an affair with the streets.
…
As for all the mixed media, it started from just being experimental an having no attention span, but I guess my views on this are sort of old school traditionalist, but I just think if you want to call yourself an artist you shouldn't be limited to mediums, your comfort zones, or whatever. You should be able to master every medium, and be able to create great works of art in any situation, time, and place, but that's just me.
I was looking at your prison art and was struck by the notion of working in that environment. How did those paintings and illustrations come about?
I had at least 10 nervous breakdowns while I was in prison. I'm a fucking beast; I can't be caged like that…I needed to escape, so I started to render these fantastic sci-fi worlds that I rendered the shit out of.
Then I just put them against the wall, laid on my side, and stared into them and fell into the pictures to escape. Prison brings all your ills and sickness out. My hair started to fall out so I started tying all of my fallen hair into tiny little knots; it killed time and it looked like there were tiny spiders all over my floor. The day that I washed my jeans in the sink and realized that I could get blue dye out of them, I started crying and screaming like a maniac. "We have blue! Ladies and gentlemen, we have blue! Let's hear it for the color blue!"
I drew and wrote so much my fingers throbbed and cramped every night. I wrote a 1,000 page outline for a sci-fi porno end of the world novel; the finished book should push 10,000 pages. I drew pages and pages of naked women doing disgusting things, I mean beating the shit out of each other. I drew the guys in my holding cell from the first month as characters from Lord of the Rings and they beat the shit out of each other to see who got to keep it. When I was in the holding cell, we only got one pen to share between five guys every other day for only four hours, so when it was my turn, I had no choice whether I felt like it or not; I drew and wrote as much as I could. Only when I got to solitary did they let me buy my own pens. I had one red pen, one black pen, one pencil, and when I started to fiend [for] painting, I used soy sauce for breakfast; for the brush I used the tip of my sock. Months later I started to use my own urine for paint and my cock for the brush. It's the same story repeating—the art saved my life.
Excerpt from Matthew Newon's interview with David Choe, Juxtapoz #72, Jaunary 2007
Bid on his piece here and read all about the Juxtapoz 15th Anniversary Art Auction here.