Juxtapoz 15th Anniversary Art Auction: Dan Witz
Juxtapoz // Friday, 23 Oct 2009
1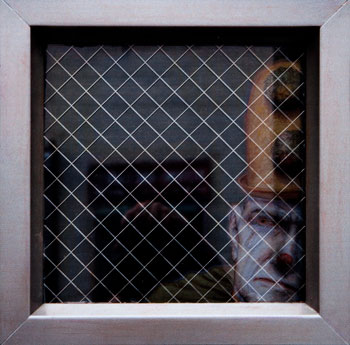 Dan Witz
(
Juxtapoz #98
) is known for his disturbing street art installations as well as his light study paintings. A true creator, Witz proves you can make art for the public on city walls as well as for collectors on large canvases. For our Big Payback auction, Witz donated the special piece he did for our current Robert Williams tribute issue.

Louis Gropman: How has your use of location changed over the years?
Dan Witz: In 2002 I moved to Williamsburg, Brooklyn, and have been blanketing this and surrounding neighborhoods ever since. A few years ago it began to seem a bit saturated here so I've taken my work on the road. Los Angeles, San Francisco, London, Copenhagen, wherever I am, I put up work. I just got back from a drive-about down south and put up stuff all along the way. My hope is that even if you never get to see one of my pieces, wherever you are, you'll keep an eye open just in case.
What brought you to explore different situations with light, as in your portraits of lamps, nightscapes, or World Trade Center shrines?
The summer after the 9/11 attacks I did a series of trompe l'oeil votive shrines installed on light poles, all emanating from Ground Zero. From this experience I'd become interested in different old master techniques used to paint light. It was amazing to me how they could not only simulate light in paintings, but also actually create it. Their canvasses glow. Some even seem to produce light. This became the main topic of my studio work. It wasn't until years later that I understood how my youthful obsession with darkness and self-destruction had finally brought me around to this attraction to light.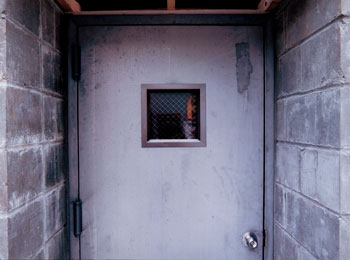 From the street series Dark Doings
Mixed media on plastic glued to metal door (door not included)
2009
There's this interesting link between your subject matter and medium; the gritty realism of your mosh pits rendered in baroque style and then the beautifully detailed hummingbirds painted on decrepit doorways. How has the connection between art tradition and street art coalesced in your work?
I've always been a realist. Early in my education I discovered that figurative study was the common starting point for artists that I admired, even modernist or avant-garde ones like Picasso and Duchamp. The usual path is to use this classical education as a jumping off point to more expressive or less literal approaches to making art. I stuck with the realism, though. I've never gotten over how cool it is to make space and light and time occur on a flat surface.
These days my jumping off point is about trying to make my stuff even more realistic—past the point of what's been possible in the past. I mean, isn't this what we're supposed to be doing, pushing on to new forms? To this end I experiment with various digital and photographic aids. I experiment with new technologies and blend them with old master techniques. In fact a lot of my street works are more Photoshop than paint. To me this isn't heresy or a contradiction; although, it's definitely contrarian. Different times demand different approaches.
I've always told myself that if it were possible that the real object or experience would express what I wanted to say, then I'd use it. Failing that, I always believed that if a photo would work, if pure photography would satisfy my needs, I'd gladly use a photo. I've come close but it hasn't happened. I guess I'm really a painter at heart. I need to add something handmade and human, to tweak the image, to add expression and depth or my stuff doesn't come to life.
--Excerpt from Juxtapoz #98, March 2009
Interview by Louis Gropman
The Big Payback 15th Anniversary Art Auction artwork will be made available for bidding only online via CharityBuzz.com starting next Wednesday, October 28th and ending Friday, November 20th, 2009.


All Auction info is online at www.juxtapoz.com/auction