Juxtapoz 15th Anniversary Art Auction: Blek le Rat
Juxtapoz // Friday, 27 Nov 2009
1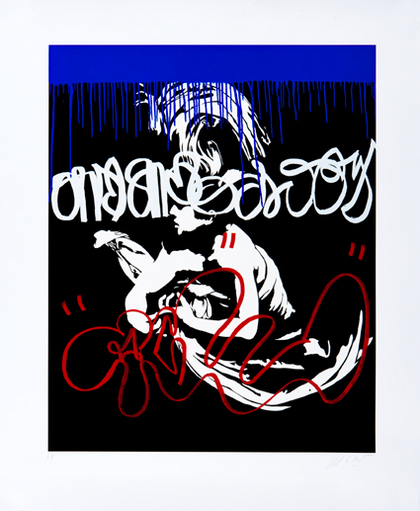 Death of Caravaggio (Unique Gold). Hand sprayed detail on 6 colour screenprint, Somerset Satin 300 gsm paper, 71.5 cm x 87 cm, Unique Signed Print.
Think stenciling images on urban streets is a new phenomenon? Think again. Anything stencil artists are getting up on the streets today has probably been done by French street artist veteran Blek le Rat (Juxtapoz #95). Only he did it 20 years ago.
For the second installment of the Juxtapoz 15th Anniversary Art Auction, we are serving up a second offering to get ahold of an original Blek le Rat piece. You can bid on this unique signed print here.
Wooster Collective: At the age of 66, you've become a true legend in the eyes of many younger street artists. Does this surprise you?
Blek le Rat: Yes, for sure. I started using stencils on the streets of Paris in 1981. And within two years other artists started making graffiti with in Europe with stencils. I must admit that in the beginning I was very angry that others were soon also using stencils to make graffiti art. But after a few years, I realized that it was something to be proud of, that the medium of using stencils was very powerful. Today people use stencils all over the world so I am very pleased.
Banksy has even been quoted as saying, 'Every time I think I have painted something original, I find out that Blek le Rat has done it as well, only 20 years earlier. He paid you a lot of respect. Was that a surprise?
Yes. Absolutely. He was the only one to do it. I have to thank him. In France, many French artists have followed me but none of them have said anything about the influence I might have had. But Banksy did. That was a very important moment for me. So I have to say, thank you Banksy.
–Interview by Wooster Collective with Blek le Rat; Juxtapoz #95