Juxtapoz 15th Anniversary Art Auction: Blackbooks Stencils
Juxtapoz // Wednesday, 07 Oct 2009
1
Katie Zuppann: You are a crew/company known as Blackbooks. Explain who exactly you are and what you do.

BooksIIII & Andrew Black: Blackbooks is a design / fabrication house built from the ground up, in the South of Florida, by BooksIIII and Dr. Andrew Black. It was born naturally and being that we were both artists to begin with, we only saw it fit to brand the company based on our already existing styles and influences. More simply, we make things... and we love working with new clients with new ideas. First things first . . . Don't sleep, always dream.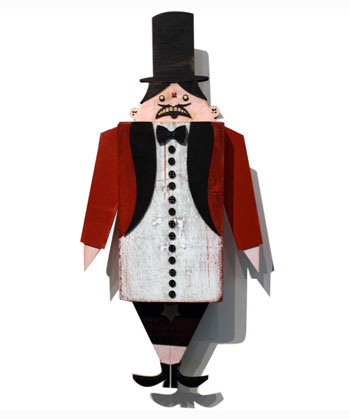 This "Ringleader" piece you donated for our 15th Anniversary Art Auction is one of your newer pieces, just shown in a big show at Bold Hype Gallery in Orlando, Florida. What's the deal behind the ringleader theme? Can you tell us anything about making this piece?

We had a good chance to talk about these pieces and this installation on the drive up to Orlando. We fabricated this show in a whirlwind, through our madness. There are definitely two stories to every piece in that body of work. At the end of the day, we both looked at the install as a window into our lifestyle. Probably something most folks can relate to in some manner or another. "The Ringleader" you could call a Blackbooks self-portrait.


Your forte is laser-cut work. You're able to fashion an amazing range of works via laser cutting. What do you like so much about using laser cutters to create your artistry?

Precision. Speed. Detail. On and on.... Folks sometimes fall under the false pretense that artwork created via laser is like "presto" as we press a button and dope shit is simply "spat out". Far from true. Our layouts, as with any of our clients, are rigorously planned, detailed, organized and inspected for perfect execution. But on the broad scale, its just one aspect of the broader picture.


You're also in the process of organizing the massive Primary Flight show, which will debut during this year's Art Basel. What can you tell us about that?

At times this project can be defined as a thankless position. We have worked our fingers to the bone, and we make every effort to put the Wynwood Arts District and Miami Artists on the map. This year we can guarantee imitators; we never forget...imitation is the greatest form of flattery. We promise to put on one hell of a show. If you are in our neighborhood and have an interest in getting loose or experiencing the realities of Miami and Basel, find us...we will give you that opportunity.


Thought about what you may have lined up after Art Basel (if you can even think past it yet)? Any new ideas or directions you've been thinking of approaching?

We will keep on keeping. Continuous development in our very specialized field. A new line of retail products. New designs, exhibitions, and collaborations including a jewelery line designed by Miami's Lovly TM Sisters. And as an added bonus, we've been training for our long awaited break out exhibition, that includes Fire Smoking, Ball Dangling, Crack Baking, Head Spinning, Shit Licking, Amazing Feats of Nothingness, Trapezoids, and Bearded Chickens. Sign up now... or die.


All things auction-related live online at www.juxtapoz.com/auction