Juxtapoz 15th Anniversary Art Auction: Augor
Juxtapoz // Thursday, 26 Nov 2009
1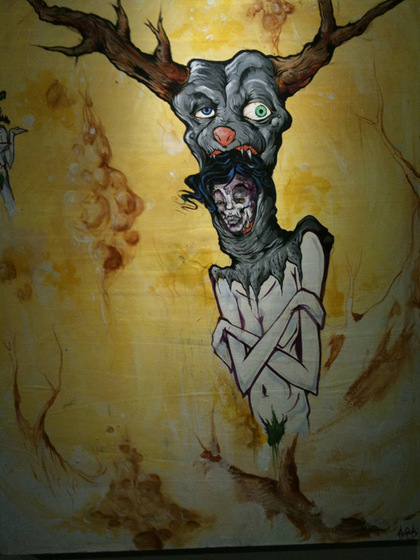 LA-based muralist, illustrator, and unapologetic bad-ass Augor (Juxtapoz #99) donated "Into the Woods" for the Juxtapoz 15th Anniversary Art Auction.
Katie Zuppann: Why did you agree to donate work to the Juxtapoz 15th Anniversary Art Auction? And why did you choose to donate what you did?
Augor: Any chance someone gets to show their ideas, they should take it (mine being visually). The roster alone is insane. Can't miss a great fuckin' show like this.
You have been working on a lot of commercial projects lately. How has your increased notoriety been treating you? Is it challenging in ways you did not expect?
The more involved I get with illustrative work, it can get pretty overwhelming, deadline wise, revisions. And with life shit it can catch up. But the upside to it is
I can do my job in my boxers. Today I have to draw lawn gnomes drinking beer. Can't get much better than that!
What is your favorite city to bomb?
LA
Does graffiti still hold that dangerous charm and thrill for you, as you have gained an exponential amount of exposure in recent months?
The scene doesn't have the same impact as it did when I was a wide-eyed child seeping everything in. I hang with my crew and a few close chums; we don't mingle too much in the scene. Doing the act of graffiti has always been the same. I'm impressing myself and I don't think I'll be satisfied in a while.
What can we expect to see from you in the next 6 months?
The " So Called Artist" book through up is dropping, along with new designs in November through UP. A few new prints. A lotta new graff shit and a whole lotta shit I cant talk about yet…stay greedy.


Bid on this piece here
Check out the deets on the Juxtapoz art auction here: www.juxtapoz.com/auction