Juxtapoz 15th Anniversary Art Auction: Anthony Lister
Juxtapoz // Monday, 14 Sep 2009
1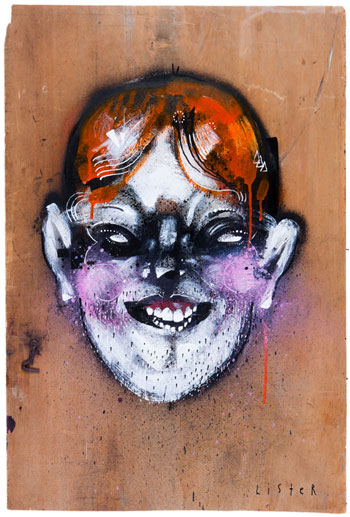 Australian Anthony Lister (
Juxtapoz #81
) is known for his loose figurative renditions of superheroes, women, and other funky faces. Internationally acclaimed, (including by the likes of Paris Hilton) this artist never ceases to entertain or baffle. But hey, someone's gotta make great art and make us laugh at the same time. We now welcome him on board our 15th Anniversary Art Auction.
Katie Zuppann: Thanks for agreeing to donate a piece of work to our 15th Anniversary Art Auction. The piece you donated is not one of your trademark superheroes, and overall, you seem to be shifting away for that imagery. Is that intentional?
Anthony Lister: No, not really. I am still making work that is based on mythology and dealing with heroes and villains. I guess in my practice I have set up options both stylistically and in subject matter for me to be able to make work about the things I want to make it about and make it how I want it to look. It all feels pretty consistent to me in the big picture.
What first made you want to be an artist?
I really don't remember. Drawing is all I have ever done. I don't even think I knew what an artist was for the longest time, I just kept getting called it by adults when I would draw pictures. I actually wanted to be a dentist when I was a kid.

A recent project involved a massive billboard of your artwork up in Sydney. Tell us a bit about that.
Well, a few years ago I sold a painting I made in New York to these guys in Sydney. When I was in Sydney a couple of years ago to speak at the Semi-Permanent Design Conference I met them and ate lunch etc, and then they wanted to show me their printing factory. That's when I saw the billboard and joked about getting up there and painting on it. They went one up on me and suggested that they print one of my paintings full-size on it. That was two years ago. I had totally forgotten about it by the time it was ready to be installed, and it just worked out perfectly that it happened while I was in town for my solo show at the strip club. [See the billboard
here
.]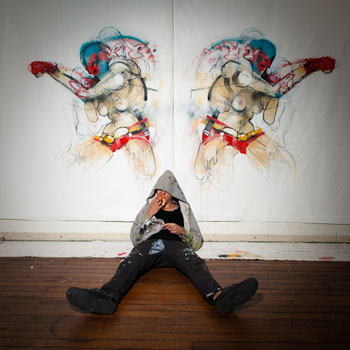 What projects or other exciting news do you have coming up in the next 6 months?

I keep my site pretty updated, which is the best way to find out the specifics of what projects I have coming up. At the moment I'm in Los Angeles setting up for my solo show at New Image Art Gallery, which runs until October 17th, 2009. Then I will be back in New York for a few group shows. Then London I think.


Stay up to date on all Auction action at www.juxtapoz.com/auction