Juxtapoz 15th Anniversary Art Auction: Andrew Pommier
Juxtapoz // Monday, 19 Oct 2009
1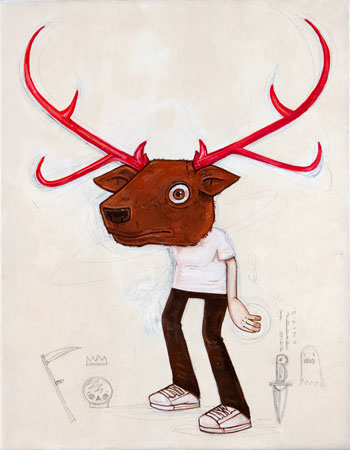 Andrew Pommier is a unique fellow with an easily recognizable style, evident in both his personal and commercial work. Pommier's clean-cut imagery may seem funny but it's also full of emotion. Get to know him a bit better in our coverage of Andrew for our Big Payback 15th Anniversary Art Auction.
Elise Hennigan: Love the piece you donated, the mixed elements of isolation and surprise are striking. Care to tell us a bit about it?
Andrew Pommier: First off thank you. This painting is inspired by a larger painting I showed of a deer with red antlers. When I started painting heavily in art school I painted mostly on small canvas around 8.5"x11" as they are the same size as a sketchbook page.
In this painting I try to recapture the randomness of a page out of my sketchbook.  With having a solo figure surrounded by sketches of random semi related drawings.  The pencil is a very direct medium.  You have to lean on the pencil to make a mark.  The harder you lean the darker the mark.  A brush in contrast floats over the canvas.  The brush in my case is used very deliberately where the pencil is more automatic and immediate.   I like that contrast of the two mediums.  The pencil seems more honest and exposes the construction of the painting.
You seem to do quite a bit of illustration for skateboards and snowboards; how has board culture informed your subject matter and just your artwork in general, if at all?
I grew up a skateboarder and was exposed to art in a way through board graphics so I'll always carry that with me. The graphics were the starting point of my exposure to the larger art world and the idea that one could make a living making art.
There are a lot of creative and talented people working in the board sport world. There are definitely artists that I look up to that started in the skateboard world that are now part of the international art world.
I definitely look at what other illustrators have done to solve the problems one encounters with having to design a board or wheel graphic. I don't think about skateboarding when I'm painting, but with that said all my work starts at the same place.  I don't have two separate practices.  So there is cross over of my commercial work and my paintings.

Where is the raddest place that your art has taken you?
Last year I was flown to Shanghai, which was amazing.  I was there for 10 days and half my time there was spent in a hotel with a swimming pool on the 25th floor as well as walking around random neighborhoods with people washing brains and shrimp on the sidewalk.  A land of amazing contrasts.
So that place was the raddest as it was so very different from my day to day in Vancouver.  I've gone to Australia twice for art shows and that place is a blast.  Good times, good people.
What are you looking forward to for 2010?
I have a series of solo shows late next year with Space Junk Galleries.  Hope to carry the show over to Germany.  So that's my main focus for the coming year.
The Big Payback 15th Anniversary Art Auction artwork will be made available for bidding only online via CharityBuzz.com starting October 28th and ending November 20th, 2009.


All Auction info is online at www.juxtapoz.com/auction