Juxtapoz 15th Anniversary Art Auction: Amandalynn
Juxtapoz // Friday, 06 Nov 2009
1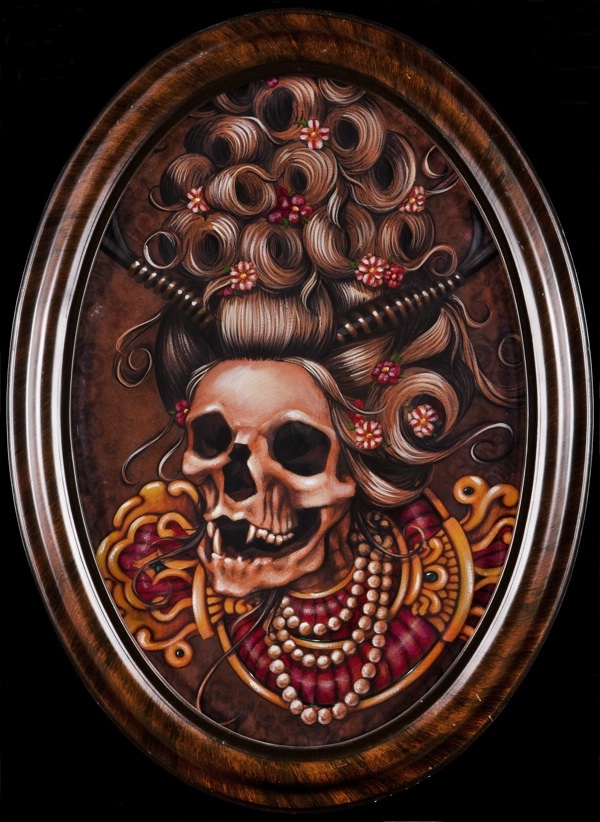 The ever-talented Amandalynn graciously donated her brown tone hand painted giclee print of her 'Move A Head' image for the Juxtapoz 15th Anniversary Art Auction. Listen in on a conversation between Juxtapoz web editor Katie Zuppann and Amandalynn, which we caught on film in August when Amandalynn stopped by the Jux offices.
Katie Zuppann: So you were just saying you have been kind of channeling more female energy recently?
Amandalynn: I've been definitely dealing less about necessarily the sexuality and fun and sort of poppiness of female art, and taking more of a serious emotion. I guess I'm trying to draw more of a secret, almost hidden thing that can come from the silent beauty of a woman, and maybe the things that are beyond what's on the surface.
So you were saying you've been spending a little bit more time just kind of reflecting on it more?
Yea, I've been painting a lot and spending a lot of time alone, and really focusing on detail and just kind of getting lost in the energy that comes from painting. I do really have fun with my other goofy paintings, like the Victorians ones and cutting their heads off and stuff…
Yea, I love that series…
I always have fun making fun of paintings. But, I'm going on a much larger scale now. It's more of a physical thing too. Because you're up and you're painting and just dedicating all of these hours, and being insane and I feel like that emotion probably pours out.
Bid on this piece here.
View the discussion in it's entirety here:
For more details on our auction, check out
www.juxtapoz.com/auction