Juxtapoz 15th Anniversary Art Auction: Alex Pardee
Juxtapoz // Wednesday, 26 Aug 2009
1
Katie Zuppann: You donated a piece from your show Letters from Digested Children earlier this year in San Francisco. That was one of my favorite shows I've seen this year and definitely one of your strongest yet. Each piece of formal artwork came along with a police report and a letter from an "undigested child," supposedly caught in various monsters' stomachs (which will accompany this piece up for auction). Was it fulfilling being able to attach a narrative to your painted characters?

Alex Pardee: Yeah I think it was really fulfilling, no pun intended. I come from a story-telling background, whether the stories I wanted to tell were any good or not is beside the question. But I started my professional career with drawing all these random drawings and then accompanying them with monologues and stories that I would just make up according to what I drew. I never was really good at doing it the other way around, where I think of a story and try to draw it. So to have this whole concept and all of these stories in my head, it definitely was satisfying. That was a fun show.

You have collected a lot of toys. What's your favorite toy right now?

Man, I don't know, I just got this felt Jackelope coin-bank at a truck stop in Wyoming, and it rules more than life. There are some crazy toys out there though, but I have been missing a lot because I'm pretty oblivious lately. I recently got that Paul Pope giant pink dog toy, and I love that thing too, though.

You launched your very first vinyl toy this year through Upper Playground. Any plans to release more vinyl toys? Your painted characters seem to beg being made into replicas.

If I DON'T make any more toys in the future, then I will clearly die. I worked at a toy store for 9 years, so I definitely NEED to make toys. But as far as right now, nothing is planned.

How is your animated film Chadam coming along? It seems to have taken quite a few twists and turns; will we ever get to see the final beauty?

The Chadam project has been quite a ride. Maybe in years I can re-collect my memoirs of working in Hollywood for the first time, haha. But regardless, even though we are now over a year past our scheduled finishing date, I can assure you it is alive and well, and I actually just saw some new footage yesterday as we keep refining the look of it more and more and the new footage looks great. Plus having voice-talents like Katey Sagal, Sid Haig, Jeffrey Combs and Carl Weathers only assures that at least it will SOUND awesome. Hopefully we will finish it by the end of this year.

Your most recent collection focuses on over-sexualized monsters, a theme quite fitting for today's culture. Why did you decide to go with this theme for Frolicking Nightmares?

Actually, it was a similar process to pretty much everything else I do, which is just really a joke that I purposely take to ridiculously long lengths because i want to make myself laugh, and hopefully someone else might dig it, but if not, oh well. I like having fun when I work. Borderline-homoerotic monsters and creatures that dream of being male models just seemed funny to me. And yah, a lot of my work is influenced by pop-culture, mostly subconsciously I think, so with the amount of things like Bruno and every show on Bravo, it does seem a little fitting.

You always have a million projects going on. Which one are you most excited about right now?

Right now, I am simultaneously juggling a new big solo show at Gallery 1988 in LA in October, as well as doing a lot of design work for Sucker Punch, which is Zack Snyder's new upcoming film. And damn, both of those are exciting as hell. Working in film pre-production is a completely new world for me, but I couldn't have lucked out any more with my first job being with Zack on a movie like Sucker Punch. It's gonna be crazy. I love you.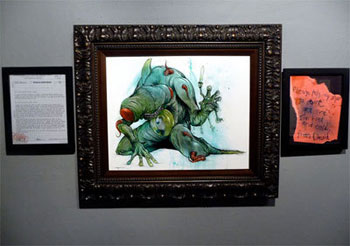 Read more on Alex Pardee from his cover article, originally published in August 2007.
Keep up on the Juxtapoz 15th Anniversary Auction at www.juxtapoz.com/auction