Juxtapoz 15th Anniversary Art Auction: Adam Wallacavage
Juxtapoz // Wednesday, 25 Nov 2009
1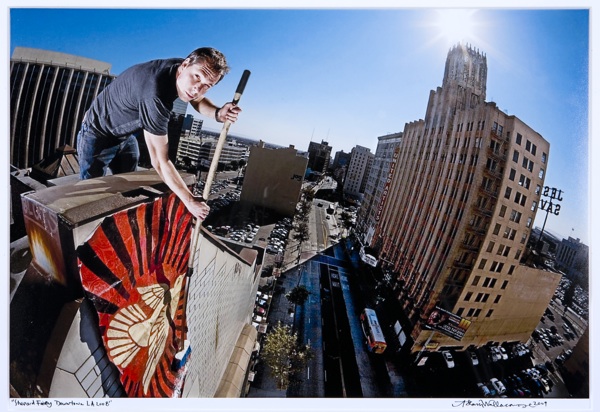 Shepard Fairey, Downtown Los Angeles. Photo, 14" x 9", 2008/09
Photographer, sculptor, mold maker, silkscreener, carpenter, interior designer, and all around maker of all things weird and wonderful, Adam Wallacavage cut us off a piece of the action and donated a beautiful set of three photographs for the Juxtapoz 15th Anniversary Art Auction.
Roger Gastman: When did you start building things and creating?
Adam Wallacavage: My grandfather got me into that. He was a carpenter, artist, photographer, and a steam shovel operator in the coalmines of Minersville, Pennslvania. I built elaborate forts all over the place when I was a kid. Then I started building skate ramps. After high school I enlisted in the military and was a Navy Sea Bee for eight years, building more stuff and shooting things.
I think being handy is just using common sense and not being afraid to mess up. Some people think its important to get jobs that pay money so that they can get whatever they want. I realized a long time ago that if you learn how to do everything yourself, you don't need lots of money. There is an amazing sense of freedom in knowing how to make whatever you want. Even if you have lots of money to pay people to work for you, there is still the burden of having to rely on someone else.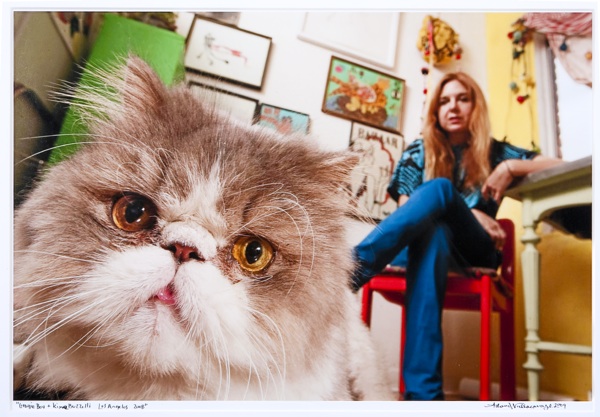 George Boy and Kima Buzzeli, Los Angeles. Photo, 14" x 9", 2008/09
I have seen you shoot, and you get things out of your subjects and photos that other photographers don't get.
I learned my skills through skateboarding. I simply kept that aesthetic of shooting in the skate photo style of using multiple flashes and weird angles. I love taking normal situations and photographing them in a more surrealistic way. One thing I have made a habit of is never being in normal situations…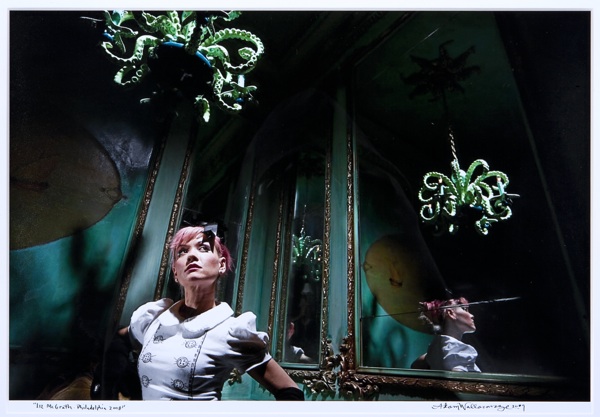 Liz McGrath, Philadelphia. Photo, 14" x 9", 2008/09
Excerpt from Adam Wallacavage Interview by Roger Gastman, Juxtapoz # 75, April 2007
Bid on this set of photos here.