Juxtapoz 15th Anniversary Art Auction: Mudwig
Juxtapoz // Sunday, 06 Sep 2009
1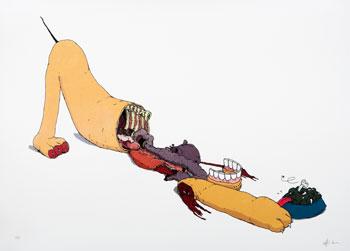 "I'll choose a nice lady from a fashion magazine, take her out of her environment, cut her arms and legs off, cover her tits in anthropomorphic pizzas, and then place a load of cartoon turf over her eyes. I don't think you can get away with that in real life..."
Mudwig's darkly humorous artwork is instantly recognizable: phallic landscapes, cartoon steaks and exploding cars sprout from the bodies and fur of reclining beasts and people. The exact meaning of the artist's curious personal iconography is often illusive but the placement of his drawings hints at an underlying purpose.
Mudwig first came to prominence when his series of witty billboard interventions started to appear around Bristol in 2001. These took the form of spray-painted growths and protrudences sprouting from advertisements and were intended to highlight the banal absurdity of the host images. He is a visionary of the "sampling generation," transforming the detritus of our bland monoculture into a surreal and fantastic Wunderkammer. —Oliver Jel
Excerpt from Mudwig's profile in our June 2009, #101 issue.
Keep up on all Auction happenings at www.juxtapoz/auction.