Juxtapoz 15th Anniversary Art Auction: Monica Canilao
Juxtapoz // Wednesday, 02 Sep 2009
1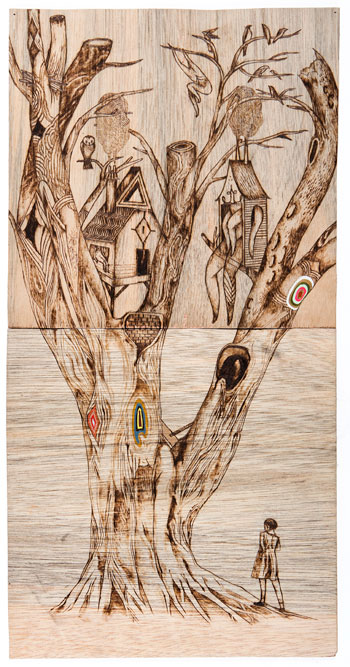 Bay Area-based artist Monica Canilao (Juxtapoz #93) graciously donated a stunning acrylic and burned wood piece for the Juxtapoz 15th Anniversary Art Auction, "The Big Payback". Learn more about this organically inspired creator by reading a recent conversation with friend and fellow artist, Swoon.
Swoon: Who were your formal influences growing up?
Monica Canilao: My mom had stuff like Aubrey Beardsley, Mucha, and the Raphaelites around. My father was an amazing carpenter with a million secret lives. He could build absolutely anything without breaking a sweat, and when I was young this sparked the mindset that I could do the same if I just worked. My grandparents' house was full of old trinkets from their travels, sweet little embroidered blankets and artifacts. Their eclectic museum of a house was also full of old books with beautiful faded illustrations that I liked to stare at and copy.
I don't really recall paying attention to any artists formally. I just drew and drew and explored endlessly. I was attracted to the feeling and texture of the old handy-crafting that used to be commonplace in every woman's life, from my mom's childhood and every generation before her, in handmade, embroidered clothes, blankets, and the lace that was passed down. I acquired huge boxes of notions and thread when people passed away, but didn't have my own sewing machine until I was in the middle of college, I think. No one ever directly taught me, I just kind of figured it out and kept trying things. I made clothes and hand sewed everything (now I can't imagine functioning without my machine). I found punk, bought less, and never threw anything away again.
I received formal art training in school, took away what I needed in as many media as I could manage, and fought with teachers in order to apply my own methods of working. The more restrictive the formats, the harder I fought them. I can draw and paint technically, and choose to make work that I do because it feels right.
I heard you give a mean stick and poke tattoo. What's up with that?
I've always been interested in the history of marked bodies; the sentiment and beauty of old style tattoos is just tops. I've been interested in learning how to use a machine since I was in high school. What has stopped me from actually taking it on, even up until today, is that I haven't had the focus that's necessary to learn the trade properly. I don't like taking in things halfway. There has always been too much out there I needed to get my hands onto to focus on only one thing. One day my friend Julia told me to give her a stick and poke tattoo, that she trusted me and "just do it." Out it came perfectly. I grew an instant affinity and for a good while was tattooing daily, roommates, friends, enemies, and kids that came through our house. At the last tally I was past a hundred. I've tattooed most parts of a body that you can. I have real ink in every color now and still enjoy making them. It's a good skill for trade, too. Receiving a back massage in exchange for me stabbing you over and over just somehow came to make so much sense. It's like a little mark of history I get to make on someone.
Tell me something that someone has said to you about your work that you have always remembered, maybe something that keeps you going when the going is rough enough.
I've got moments. A while back this really quiet middle-aged woman and her daughter, who'd been coming into this gallery in the Tenderloin for ages, looked at every show and never bought a thing, ended up buying one of my favorite pieces. It was the first piece of art she had ever bought and it was such a big deal to her. I got to meet her and we only talked for a minute because she was really shy, but I was so touched by her excitement over this thing that I'd become so attached to myself. Her nervousness was sweet and flattering. This was also a time where I was just getting semi-comfortable with letting go of this work that I'd spent so much time with, so that interaction helped play a part in me becoming more secure with selling my work. I came to realize that the personal investment in any one piece is worth letting it go if the work passes on to someone who appreciates it. Though we all depend on some currency to get by, I do still prefer to make trades when it's fitting: a painting for a bike, mending clothes when I enjoy sewing. Recognizing and supporting your friends' strengths benefits everyone.
One other thing that makes an impact is when folks who don't like art tell me that I've inspired them to make something for themselves. Enticing anyone to get off their ass is a crazy superpower.
--Exerpt from the interview done by Swoon, from Juxtapoz #93 ,October 2008.
Check out www.juxtapoz/auction to stay current on participating artists and info about the upcoming benefit auction.