Juxtapoz 15th Anniversary Art Auction: Joshua Petker
Juxtapoz // Saturday, 29 Aug 2009
1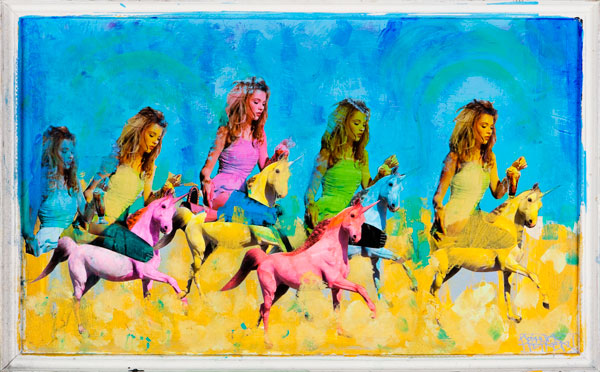 As the pieces come raining into the Juxtapoz offices for our 15th Anniversary Art Auction in conjunction with Upper Playground and Power House Project of Detroit, we continue to present you with an exclusive look at each contributing artist. Read on for Joshua Petker's thoughts on his striking donation "Unicorn Parade".
Katie Zuppann: I love the piece you donated to our 15th Year Anniversary Auction, "Unicorn Parade"; the colors, layers, theme. Tell us a bit about it.
Joshua Petker: "Unicorn Parade" is significant to me in a few ways. Most importantly, it's one of the first mixed media pieces I've made. I usually only paint, and as a painted collage, Unicorn Parade allowed me to experiment with pop art repetition and changing colors which I love because for me it so clearly represents the imperfection of each unicorn and rider. In my paintings of women, I add unicorns a lot to celebrate and hint at that most men and women live their lives inside of their minds. In other words, we each create a fantasy life for ourselves, which then becomes our reality. So often we think we are special and we embrace magic...and, even that we are magical in some way...and, unicorns for me say, "No, you're not special. Everyone is, and you're all just living the same ego fantasies side-by-side." And, that's a fine thing for me. I'm just fascinated by it so my work tends to dwell within that concept.
Your last show, "Water Lilies" seemed to switch focus a bit. More contemplative and abstract, perhaps? Did you consciously change directions or do you see that as a natural progression an artist goes through?
A combination. I was consciously exploring my interest in abstraction and different painting techniques, which is also reflective of my evolution as an artist and person in general.
You recently entered the fashion world in a big collaboration with designer JARED Gold. What drew you to clothing and fashion and do you plan on pursuing things further with fashion and collaboration?
Art and fashion are often intertwined in this day and age and there are good and bad parts to that fact. Art should not be because of a fashion yet I think that after a part of Warhol's genius allowed Americans to see their commercial industry as an artistic part of who we are an intense threading of fashion, photography, and art came together in Western design that is too much a part of our every day visual world to be ignored. And, as I often look to fashion magazines for inspiration, the offer to have a clothing line inspired by my paintings was too fun to pass up.
What's the most exciting thing you have planned for the future?
I have lots of exciting things coming up but am currently focusing only on my next solo show, April 2010 at the Corey Helford Gallery, Los Angeles, CA.
Keep up on the artists participating in the Juxtapoz 15th Anniversary Art Auction at www.juxtapoz.com/auction