Juxtapoz 15th Anniversary Art Auction: Greg "Craola" Simkins
Juxtapoz // Thursday, 17 Sep 2009
1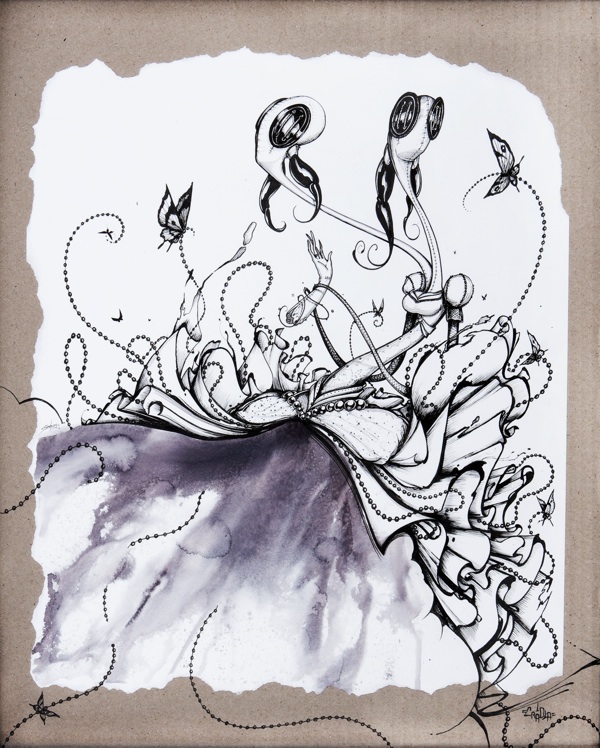 Today we present to you the work of Greg "Craola" Simkins. For the Juxtapoz 15th Anniversary Art Auction, presented by Upper Playground to benefit Power House Project of Detroit, Craola donated a beautiful ink drawing, seen above.
Elise Hennigan: Your pieces tend to look like pages from a fantasy story, sans text. Do you have a corresponding narrative to your pieces, written down or otherwise?
Greg "Craola" Simkins: Yes. I have a story line that I have been slowly adding to during the last 6 years or so. It helps me to make sense of the world I paint into. I am not completely ready to tell the story in its entirety. It is still the secret motor that keeps me going and excited to paint each day.
What can you tell us about the specific piece that you donated for the art auction?
It is called "The Sisters" and is a preliminary idea drawing that I inked when working out one of the pieces for my next show.
Donating prints for charity seems to be something you do pretty often. Just an immensely generous guy?
I haven't thought about it that way. I just feel that we have been blessed and want to give back where we can.
You've done drawing, painting, graffiti, computers, etc. Which medium is your favorite to work in and why?
By far my favorite has been painting (acrylics on canvas and panel mostly). I have never been able to achieve that same level of satisfaction in my art as I have with painting. When I finally decided to pick up a brush, it felt like something clicked and I haven't wanted to put it down since. Ink is a close second and has become very therapeutic. It provides a medium for me to do when I am not at the studio, and I'll spend days at random coffee shops or at the beach working on ink pieces.
Any exciting projects in the works to round out 2009?
Baby Tattooville in October. I have a solo show in November at Gallery 1988:Los Angeles which will showcase the largest painting I have ever done. I also will launch something we have been working on for a little while now...to be announced later ;)
Stay updated on all the Juxtapoz 15th Anniversary Auction artists at www.juxtapoz.com/auction