Juxtapoz 15th Anniversary Art Auction: Aaron Horkey
Juxtapoz // Friday, 04 Sep 2009
1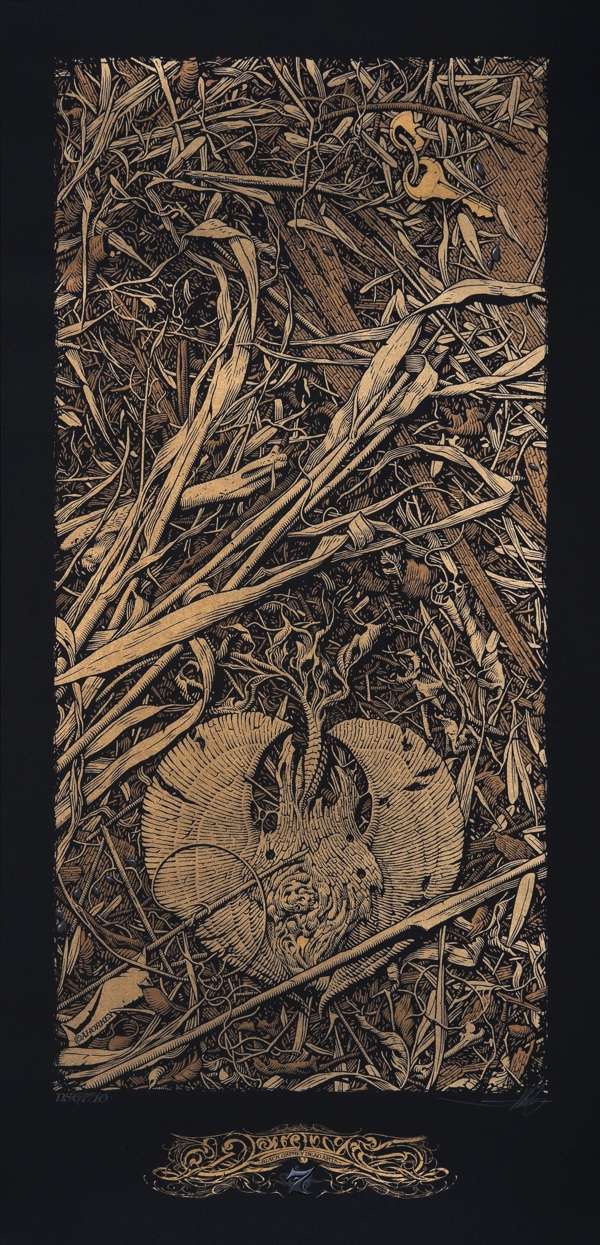 Today we spotlight another artist who has generously donated work for our upcoming 15th anniversary art auction to benefit the Power House Project of Detroit, Aaron Horkey.
Evan Pricco: How do you spend most of your time these days? Is it personal work or other commercial work?
Aaron Horkey: All commercial, all the time—I haven't had time for personal work in years. I seem to only be able to get work out the door if there's a deadline attached so this actually works out for the best. Also, I'm usually so drained from work the last thing I want to do is sit down with a sketchbook or some such thing. As a result, my sketchbooks typically last at least 10 years thereby allowing my thrifty (cheap) Midwestern disposition to remain intact.
You are a favorite of many artists and have quite a following of people into your prints and work. Who are some of your favorite visual artists?
I'll stick to 3 of the living:
Walton Ford has long been a perennial favorite of mine. His phenomenal technical ability, fascinating subject matter and insanely thorough research practices make for some astonishing work. His deluxe monograph, Pancha Tantra is the one book I'd save from a tornado and could certainly brain a horse, if needed. Additionally, the only thing that could get me to visit New York City would be a Walton Ford show.
James Jean makes me want to die. Every time I see something new from James I'm plunged into a downward spiral of self-loathing and depression as I'm reminded exactly how woefully inadequate my output continues to be. At this point it's almost a cliché to mention James Jean in a "favorite artists" discussion but goddamn, the guy's a born killer and can apparently do no wrong.
Al Columbia continually amazes with whatever tiny shred of information or dirty image I manage to glean. A recluse after my own heart, it's a fucking tragedy that countless successful artists continue to pillage his back catalog, propping up their half-baked careers on the well-worn spines of second hand copies of Biologic Show. You know who you are and should be ashamed.
You made one of my favorite rock posters in recent memory, the one for Arcade Fire. Is it valuable to like the music for which you create a poster for? Or can you separate that sort of liking/disliking out when you do your work?
96% of the time I manage to work with bands I personally enjoy and have a history with— they're either friends of mine or I've been into their music for years or both. Makes the process infinitely more enjoyable plus I'm able to contribute something, however infinitesimal, to the more human, hands-on and harsh end of the musical spectrum of which I'm most attracted to. That being said I've done a handful of posters for bands I know next to nothing about that haven't been complete disasters (the aforementioned arcade fire being one example) so I guess in the end, it doesn't really matter. That band in particular I managed to avoid completely until I heard a song on a skate video last year, can't say I was missing much...
What did you donate to Juxtapoz for this show? What can you tell us about it?
It's a variant of an art print from 2008 called Detritus. The main edition was printed on dark brown stock with light blue hand painted embellishments whereas the donated copy was printed on steel grey paper with grey embellishments. There's 10 of the steel grey variants in existence and they've never been publicly available if that matters at all.
What is coming up for you? What does the rest of 2009 into 2010 have going on?
Just finished up a print for a screening of the movie Dead Man at the Alamo Drafthouse in Austin. This one's a bit different for me as it's a fully painted illustration so the prints will be high quality giclees with letter pressed embellishments to heighten the decadence. Next up is a 7" EP package for Melt Banana to be released via Init Records after which I'll be working on a print for a Bon Iver show and a couple projects for Baroness. Also need to finish some incidental elements for an oft-delayed series of deluxe 1/1 scale letter press prints of my line art - getting real close on that project, looking to release them this fall. Interested parties can sign up at deadartspublishing.com to be notified of these and other releases, if anyone is so inclined.
All that aside, the biggest project of the year is our new baby arriving late in the Fall - that will certainly trump all else.
As always, keep up on the 15th Anniversary Auction at www.juxtapoz.com/auction