Jux in Detroit: Journal Entry, Part 5
Juxtapoz // Tuesday, 09 Nov 2010
1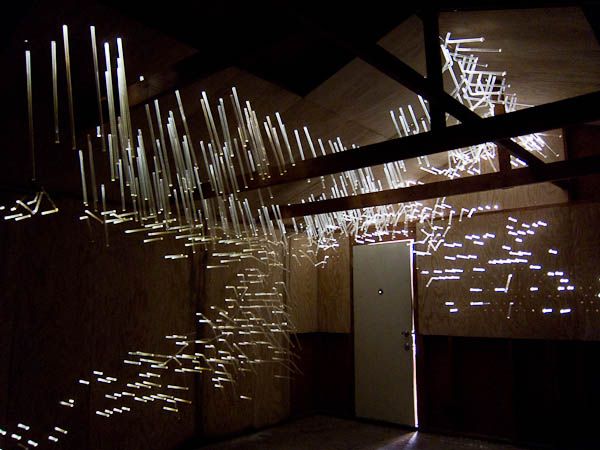 Our Jux in Detroit blog got added to with a new journal entry by Jason Jaworski and photographer Tod Seelie. Only this time, there is
a little surprise when you click through to their blog
, a picture that shows an unmentionable that we decided was going to stay on the Jux in Detroit blog for safekeeping.
In this edition, Jason recounts some more of the daily activities with the artists as the painted and constructed around the neighborhood. Saelee Oh, RETNA, Monica Canilao, Harrison, and Ben Wolf all make appearances.
A little excerpt:
I stared for a brief moment, this image and several others occupying only a few seconds of time, but their architecture and composition so thoroughly entrenched in my mind that it takes me this much to describe them, whereupon I can branch off into numerous and many more sentences just describing the persons' faces, all of which were distinct and different from the other: the two children, one in long-sleeve blue garb and the other in a turtleneck- their views and eyes vacant of any emotion except the pondering waiting bored look that seems to have spread through youth now, as if waiting in a waiting room with only one magazine and this magazine being one that you've already read completely over and over; the parents who stood like statues- the father in a bathrobe, tube socks and sandals, the mother with her blazer, velvet collar and glasses affixed to the left pocket of her breast and blouse- everything coming together so perfectly in color, light and coating that it resembled and reminded one of an Eggleston photo or an early Winogrand composition from his 1964 series.



Everything here seems from a time before or as if from a place that belonged to the most distant corners and crevices of our country's memory. Colors here have a hue which strikes one as if looking through the glass of a Rolleiflex and the expressions and gaze here from the populous seem more real and immediate than those of any other city. People aren't desperate here, but they seem to have a worried, pained look, one that doesn't wane, but wanders and lingers.



Read the full blog here.