Jux in Detroit: Journal Entry, Part 14
Juxtapoz // Tuesday, 23 Nov 2010
1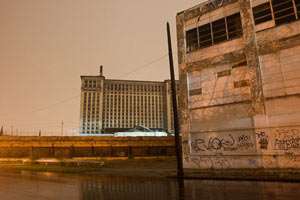 Jason Jaworski just keeps going to work on posting his new journal entries, as we are now up to #14 from his Juxtapoz x Power House Productions live in Detroit blog. Again, Jason writes at length about the process of working from house to house with the artists and the various projects everyone is working on.
He writes:
A few hours into the evening, I received a text message from Harrison, asking if I were around to help them put up the chandelier they were constructing on the second floor at Monica Canilao's house. I crossed the street, and together with Mitch, Bobby, Tod, Charlie and Harrison, we managed to lift the heavy plank of wood and jostle in several screws / washers through the small holes and inlets of the main piece of wood which will act as a base for the chandelier.
We sat around for awhile, Harrison and Monica attaching several lamps and things before Charlie, Harrison and I left to the Yellow House to go see Ben Wolf who threw out his back earlier in the morning while trying to lift a dormer.
We walked into the house, light from the kitchen spreading itself out of the doorway and into the living room where Ben lay on the floor. Snatches of sound from a pen and brush being pressed against a page could be heard- Richard Colman in the kitchen sketching and drawing.

Harrison and I sat down on a small futon and Charlie on a chair across from us. We talked for awhile. About an hour into our conversation, Mitch came into the the house, dropping off a meal for Ben who had been unable to go out to eat because of his injury.

Read the full journal entry here.