Justin Giarla Reflects on 7 Years with The Shooting Gallery
Juxtapoz // Wednesday, 03 Mar 2010
1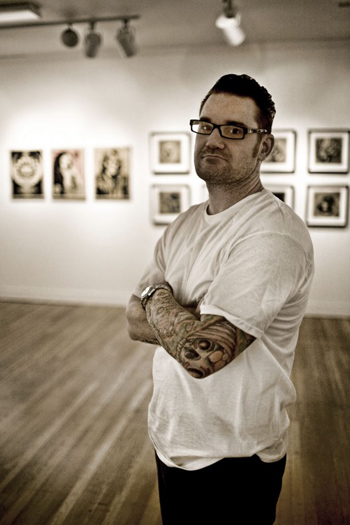 Doing anything for seven years is a while, but running one of the top contemporary art galleries in san Francisco—no, make that the country—is no small feat. But then again, not many people we know are quite like Justin Giarla.
"Seven years ago, Justin Giarla cut the ribbon on The Shooting Gallery in San Francisco," states the Gallery's Kirstin Incorvaia. "He has since witnessed a transformation of the neighborhood and even of the contemporary art market, keeping pace with the most cutting edge artists of our times.
"In the last seven years he has curated an exhibition for the 2009 Grammy Awards, co-curated Shepard Fairey's ICA Boston exhibition, and even contributed works from his personal collection to Through Future Eyes at Yerba Buena Center for the Arts.
"If there's one thing you need to know about Justin: he tells it how it is. From nightclubs to Gucci to Shepard Fairey, he has stories to boot. Our owner and curator offered a few words of wisdom on this special occasion, so listen up.
Why did you open The Shooting Gallery?
Justin Giarla: I opened The Shooting Gallery in San Francisco back in 2003 because there weren't really any galleries that showed the art I liked. Back then it was really only The Luggage Store and 111 Minna and a couple of small start up spaces that never lasted. It always frustrated me that there were so many talented artists in SF that weren't really getting any shows in San Francisco and I really felt that we were missing out on something special. And to make matters worse, a lot of the galleries in downtown SF were really stuffy and uninviting. I always felt like I was being sized up at the door and it bummed me out. I never understood why art galleries were always so stuffy and unwelcoming. It was something I wasn't accustomed to and it was uncomfortable to say the least. So I decided I would open my own art gallery in SF and showcase the kind of artwork I loved and appreciated, and to provide a comfortable un-intimidating space for people to see art.
Talk about the meaning behind your gallery's name.
Well there was never any real true meaning behind the name of the gallery however it is pretty catchy. But there are 2 reasons for the name that are real easy to define: 1) when I first opened, I displayed a fair amount of Photography hence The Shooting Gallery, 2) it's located in the Tenderloin area of SF which at the time was pretty dodgy with crack dealers, tranny hookers, shootings, stabbings and junkies. So it was kind of a wild neighborhood. That's all changed now and things have mellowed out quite a bit. I guess I'm the only dealer (art) left on the block now.
What was the hardest part about starting your own gallery?
Really it was just the courage to do it. I had raised the money easy enough, I had an idea of what needed to be done and I found a space I could afford right off the bat. But it really was hard just to make the decision to do it. Once I did, it was easy from there.
Read the rest of this interview with Justin at www.shootinggallerysf.com
To celebrate 7 years of awesomeness, The Shooting Gallery will be hosting a special show and reception this Saturday, March 6 from 7-11pm with works by Aaron Nagel, Kevin Cyr, and Jessica Hess.
Open to all, the night is sure to be a place to see and be seen.