Julieta XLF: Urban Landscape Prettifier Part II
Juxtapoz // Friday, 20 Nov 2009
1


The whimsical grace with which Julieta XLF's psychedelic landscapes flow across a given space is seamlessly complemented by the zen-like expression each of her contented characters sports. Who could blame them, when their sole purpose is to make passersby stop and smile at what was once dead space.
I recently caught up with the Valencia-based artist via e-mail, and here's what she had to say. --Tanya Kollar


Tanya Kollar: Female street artists from all over the world are starting to get noticed more and more recently in the graffiti scene. How does being a girl play into your street art? Do you ever feel the need to prove that you can hang?

Julieta XLF: The truth is that I do not usually think much about it. I try not to give importance to the fact that I'm female 'cos contemplating the work of a person from a gendered perspective is limiting.

It is true that graffiti has been a predominantly male field but street artists at the present are tolerant and do not raise barriers [for females] associated with the graffiti movement.
I'm happy that female artists are starting to get noticed 'cos although fewer in number women have been just as active as men.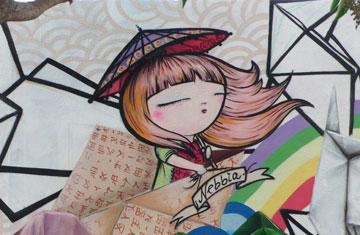 Your pieces are always so colorful and whimsical, blending Japanese kawaii imagery with psychedelic pop art. They definitely make my eyes happy :o) Have you always worked with this type of style or did it take awhile for it to evolve?

Luckily it took a while to evolve into what it is now, which I see as positive. We are constantly learning, making mistakes and learning from mistakes, and I hope that continues to occur. What has always been there is the color, fantasy, and the desire to paint beautiful things that please the eyes that see them.

What inspires you?

Imagination, letting the brain relax and [be led by] by the unconscious. All the visual information that my mind stores and then transforms temporarily, my experiences, my mood, my sketchbook...the need to channel my energy...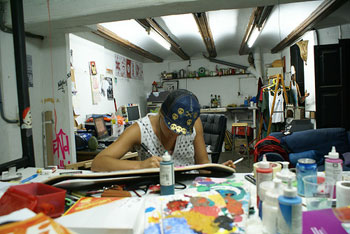 What is a normal day in the life of Julieta like?

I think the only thing that stays in my day to day is that I wake up with a lot of energy and I'm going to bed very tired. I try to be positive and remember that I am very fortunate. I love every day to be different. The fact that the people I work with and places I work in change depending on the project, and also the possibility of working in what I love makes the energy flow and I never get bored.

Where would you like to travel and why?

I would like to travel everywhere, I haven't been to Asia yet so that would be probably one of my next trips. I'd love to go to Japan and live there for awhile, there are so many interesting things about Japanese culture. Traveling is such a nice way to grow...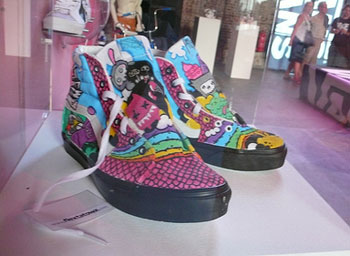 What do you like to do other than paint?

Uff, many things. I love adventure sports that make me produce adrenaline, I like dancing, going outside the city, having time to read,..and sharing the things I like with the people I love. I need to move to keep on moving, healthy mind in healthy body.

Why do you enjoy doing street art as opposed to canvas or digital work? What's so great about the street art medium?

The street is "alive" - painting in the street is another adventure. Also I like not to have attachment to what I do – it is something ephemeral, not owned by anyone, not even mine and that, in turn, is for everyone.
If you didn't see Part I of this interview, read it now HERE.