JR x Vhils Prep for Eurotrash in Los Angeles
Juxtapoz // Tuesday, 01 Jun 2010
1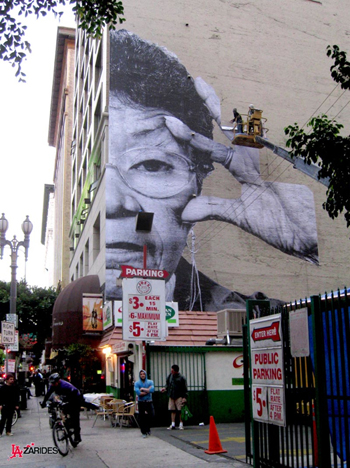 Europe is invading LA. To kick things off, JR (
Juxtapoz #97
) and Vhils (
Juxtapoz #103
) have made quite an impression on the City of Angels, as JR alluded to in
our interview with the artist
a few weeks back.
In anticipation of tomorrow's unveiling of the four-man show, EuroTrash, at the Lazarides pop-up exhibition space in Los Angeles, JR and Vhils have slapped LA with a few gorgeous pieces.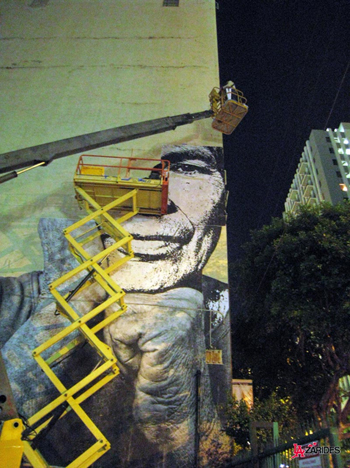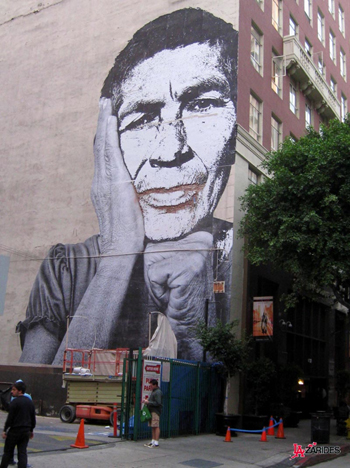 More on the artists participating in EuroTrash:

Hailing from France, JR will bring his unique vision to Beverly Hills. Immersing himself within cultures where struggle and conflict are rife, he presents his monochromatic photographs and installations. Read our recent interview with JR here.
Renovating the urban environment much like JR, is the innovative Portugese artist Alexandre Farto aka Vhils. He manipulates a variety of surfaces to create his extraordinary vision. From the brick facade of buildings to peeling off layered flyposters, he reveals images that explore the sub-cultures and dynamism of a city. Other recent work from Vhils here.
Cork born painter Conor Harrington explores the illusion of power and the emotional side of masculinity in his large-scale paintings. Combing the fast pace of grafitti art with traditional oil painting, resulting in energetic murals of soldiers and conquerors existing within a chaotic abstracted landscape. See our recent studio visit/preview with Conor here.
Antony Micallef returns to LA with his distinctive style of painting. Drawing on icons of contemporary society which both celebrate and condemn modern day living. His most recent works are built upon a profound belief in the act of brushstrokes and animals and humans merge in the happy accident of the artist's extreme stream of consciousness. Recent coverage of Micallef here.
EuroTrash
9th June 2010 - 27th June 2010