Image Gallery
JR: INSIDE OUT project Israel - Palestine
Juxtapoz // Thursday, 08 Sep 2011
1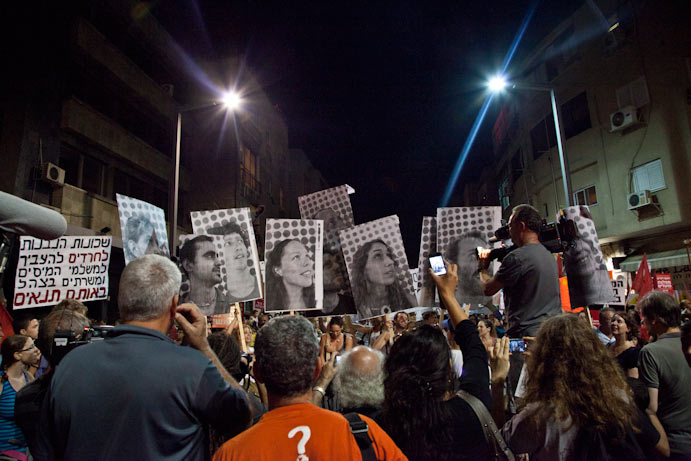 French artist and TED Prize winner, JR, continues his marathon tour across the world, this time unveiling a new project as part of his
Inside Out Project
:
Time is Now, Yalla!
. The project is now underway in Israel (Tel Aviv and Haifa) and Palestine (Bethlehem and Ramallah).
The project is called "Time Is Now, Yalla!" because "Yalla!" is an Arabic word used by both Palestinians and Israelis to say "let's go".
From JR and his team:
JR and his team have set up four giant photobooths, which will run through September 11, turning out about 1,000 photos each day. Palestinians and Israelis are invited to visit and, in exchange for a personal statement, receive a large-format portrait they can paste wherever they wish – either on their own or as part of a group.
"When I first worked here on the Face2Face Project, I pasted portraits of Israelis and Palestinians doing the same jobs to show that, despite their differences, Palestinians and Israelis are similar enough to understand each other" said JR. "And then I came back in 2010 to set up the first tours allowing people to discover both Israel and Palestine during the same trip". "I return now simply as the printer, giving people the photobooths for free so they can take their own portraits, share what they stand for, and paste the streets of their communities. Everyone can tell a story through art, and the Time is Now to break down barriers to expression and give people the tools to be seen and heard."
In the context of Israeli/Palestinian situation reaching a crossroad, of a reshaping of the Arab world and of Israeli society urging for social justice, Time Is Now to listen to the silent majority which believes that the solution leading to 2 states for 2 peoples is waiting for implementation, and will bring peace and shared prosperity.
JR states: "We want to show that there is massive support for peace on both sides and that young people want to move forward, to secure their future. Our role is simply to create a positive public visual statement, in both Israel and Palestine …"