Josh Keyes Talks About Art, Books, and the Dirty Projectors
Juxtapoz // Monday, 11 Jan 2010
1


"There is so much we want to say about Josh Keyes, because look at the picture above," writes The Citrus Report. "It's so beautiful, striking, detailed, clean, bright, focused, and political… okay we just said a lot. And that is all of Keyes' work.

"He has created a body so consistent in its beauty, yet always evolving in the concepts, technique, scope, and characters that a trip to one of his shows is a trip to a future universe where the animals have said goodbye to humans and hello to this shit we have left behind. It's frightening, but uplifting. And just look at those white backgrounds… there will be more like this at his solo show at Jonathan LeVine Gallery in NYC in February 2010.

"We asked Josh a few questions about the year that was, the decade that was, some music he likes, Portland, and where the future is going …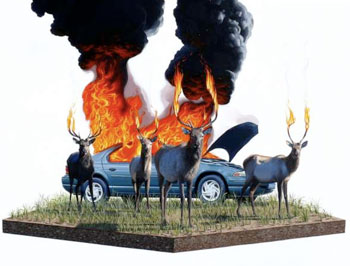 What is the best thing you did all year? Personal or professional?
Moving to Portland with my girlfriend Lisa, and settling into a larger studio.

What is the best song or album (they still make those, right?) of 2009?
I am still feeling a number of songs from the Dirty Projectors album Bitte Orca: slightly discordant and sublime.

At the close of the decade, who is your favorite fine artist?
Too many to choose from, I don't know if there is a single artist who I can name, but I have been very impressed with a number of emerging talents from all over the world. The new ideas, imagery, process and emotive force of the new work I see holds tremendous promise. The over all dominant theme seems to be a fusion of personal mythology, global pop culture, and a desire to develop a sense of singularity or unity out of the flood of information overload. In terms of the emerging aesthetic I would say it is a tension between the handmade and the mass-produced object.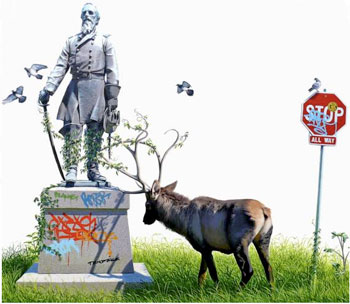 Favorite news story of the year?
Aside from the headline that Obama won the election, it would be this one, "Scientists claim that time travellers from the future are sabotaging the Large Hadron Collider "

One conversation you wish you could have overheard this decade?
The conversation between Dick Cheney and his God.
Read the full and un-editied version of this interview from The Citrus Report.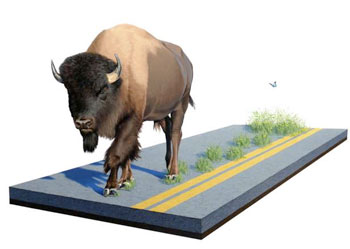 Josh Keyes lives online at www.joshkeyes.net