Josh Keyes "Collision" at David B Smith Gallery, Friday, November 5th
Juxtapoz // Wednesday, 03 Nov 2010
1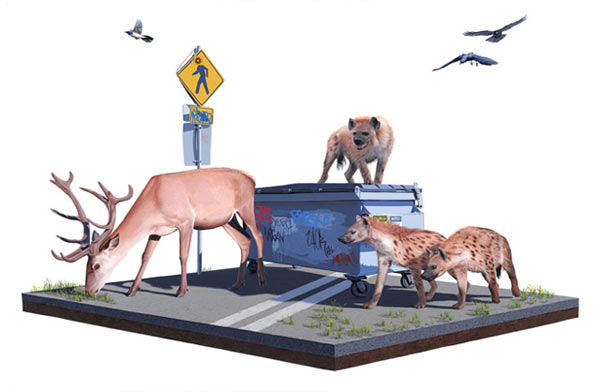 Josh Keyes
'
Collision
show at
David B Smith Gallery
was something we have looked forward to all year. Gracing the cover of our February 2010 issue (n109), Josh has become a close member of the 
Juxtapoz
family. As with all his shows, we are all excited to see the 10 new paintings he will unveil in Denver this Friday night. 
One of the more resounding things that Keyes told us this past Winter was his impressions of his work, when he told us, "I feel that we (humans) are the main participants and that these are vessels. The are accumulations of my life history put in terms of my own personal mythology; personal symbols, personal images that speak to me about change, transformation, death, rebirth, all these things. And also about healing."
As with all of Keyes' shows,
Collision
tells a story, and in this case, the 10 paintings form a story of transformation - each an individual work of art, and yet each connected to the others. Josh has also included his largest painting to date, 
Sowers
, 40" by 120" in this exhibition. 
We hope to have more images of Josh's new pieces in the next week. 
Caption above:
Gnashing
Acrylic on wood
30 x 40 in. (76.2 x 101.6 cm)
2010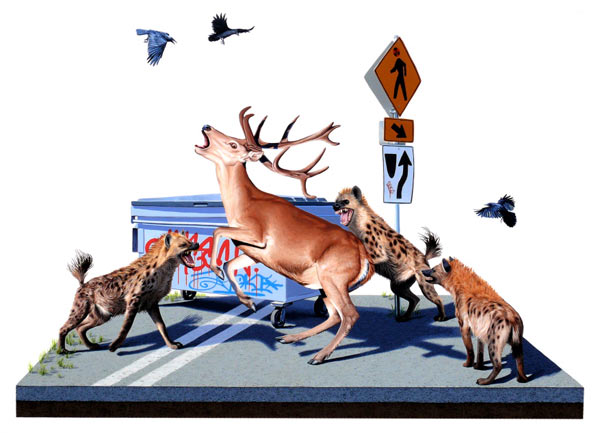 Sowers
, Acrylic on wood, 40" x 120", 2010
Josh Keyes
Collision
November 5th - December 11, 2010
Opening reception: this Friday, November 5th, 7pm to 10pm
David B. Smith Gallery
Denver, Colorado