Image Gallery
Josh Keyes "Migration" @ Jonathan LeVine Gallery
Juxtapoz // Friday, 14 Oct 2011
1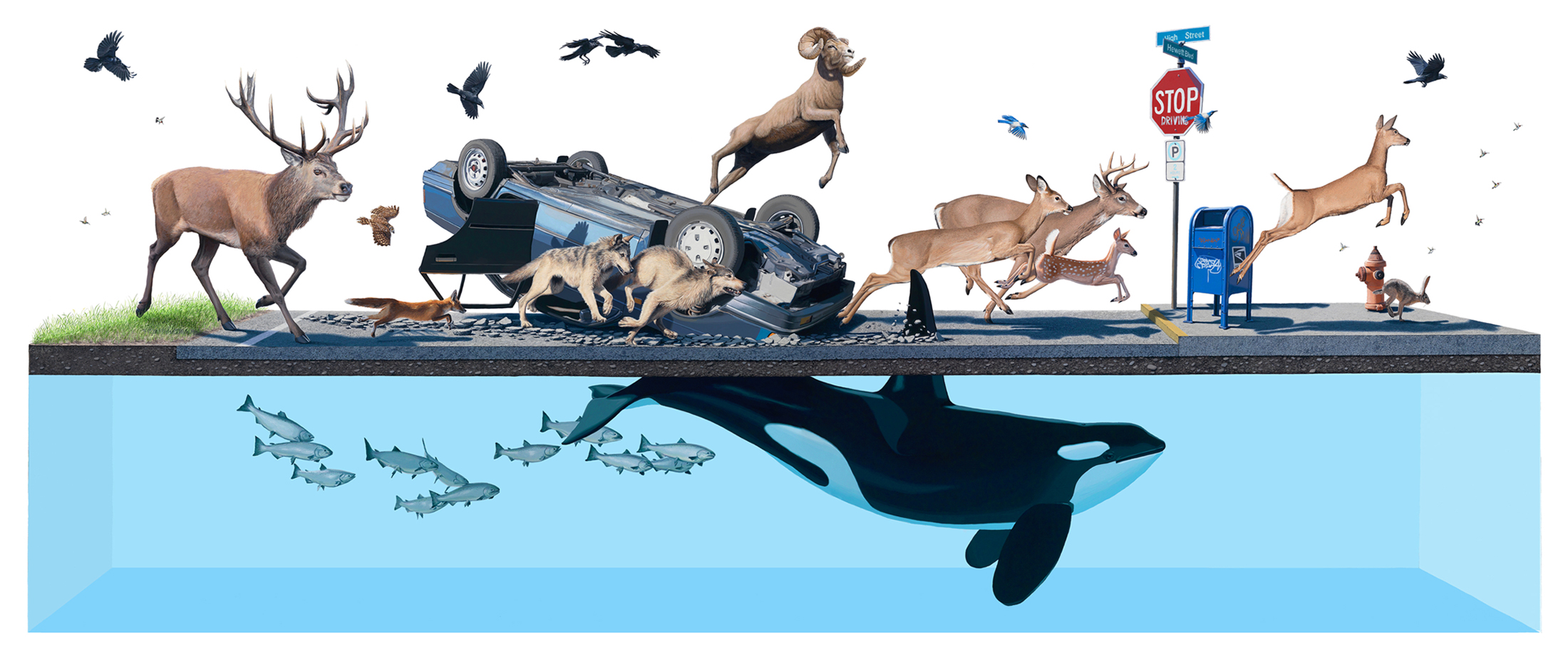 We just announced yesterday our
Juxtapoz Illustration 2 book
featuring Portland-based
Josh Keyes' on the cover
. Today, we show you a preview of Keyes' newest solo show,
Migration
, opening at NYC's
Jonathan LeVine Gallery
on Saturday, October 22.
Keyes has been a Juxtapoz staple for years, from his time in the Bay Area and living in Oakland, to his cover story on our February 2010 issue. His appearence on our Illustration 2 book was a natural selection; his work speaks volumes about the world around us. If you were lucky to catch his show
at Fecal Face in San Francisco
earlier this year, the work was as always an impressive look at the environment and man's relationship toward the animal world.
Here is LeVine's notes about the show:
Migration
features a series of paintings on panel, drawings on paper, and a ten-foot canvas entitled
Stampede
, the artist's largest painting to date. (The piece you see in this post).
On the subject of his show title, in the artist's words,
"Migration and displacement were ideas that continued to surface in my mind while I was painting these images. I was thinking about the effects of climate change and the way some ecosystems that thrive in a specific range of temperatures—like polar or tropical climates—are experiencing a shrinking of their boundaries. Ecosystems that were separate are now slowly merging and overlapping one another, causing disruptions in the food web and increased competition for food and space among species. Some become displaced and are forced to migrate, in order to survive."

Keyes' imagery in this exhibition pushes the potential consequences of ecosystem clashing to a climax that wavers on the surreal. A bright orange tiger rests contently on top of a graffiti covered dumpster, staring intensely at a pack of wolves, scavenging whitetail deer scraps from the tiger's morning hunt. Below the smooth floodwater surface, glides a great white shark. A pair of giant pandas, marooned on a submerged jeep, watch with curiosity as the shark's fin circles by. Deer, elk, wolves and other animals form a stampeding herd, charging through a city street, leaving upturned cars and ruptured pavement in their frenzied wake.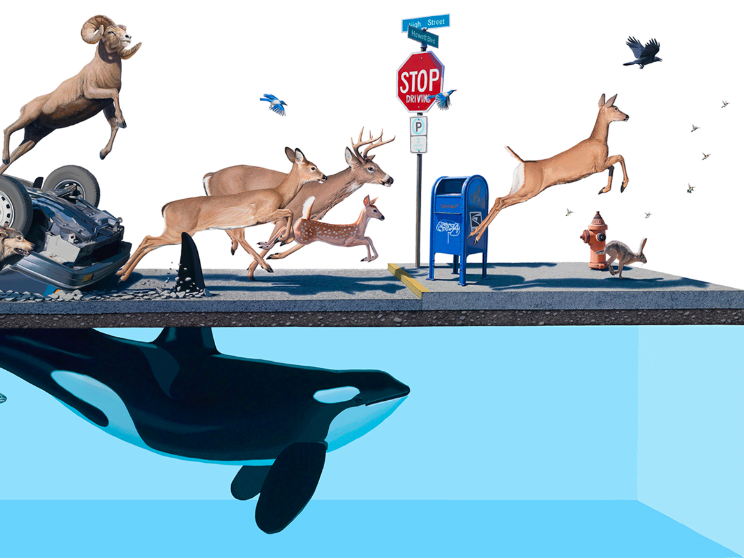 Josh Keyes
Migration
October 22—November 19, 2011
Jonathan LeVine Gallery
New York, New York