Joe Ledbetter brings the Magnus Maximus
Juxtapoz // Friday, 28 May 2010
1
For his first solo show at Corey Helford Gallery, Ledbetter creates an extraordinary collection of new paintings and drawings, filled with engaging narratives and bold visuals that are as autobiographical as they are a classic hero story. A true tale of wretched victory, Magnus Maximus is a character study in twists of fate and fortune, power and privilege.
Recognized worldwide for his combinations of cute and cuddly creatures with unfortunate — albeit humorous — situations, Ledbetter takes his work to new heights for the exhibition. Pushing his craftsmanship and design aesthetic further than before, he employs a lighter color palette of pure whites and pale hues on blonde wood panels, and he introduces baroque embellishments, inspired old world European architecture and design.
For Magnus Maximus, Ledbetter's artistic career culminates in an unforgettable body of new work, which he explains "represents an artistic odyssey. The preparation for all my solo exhibitions have been journeys in their own right, ripe with adversaries, angels, self-doubt, sacrifice, bliss, despair, hope, stress, rapture, joy, shame, blood, sweat and tears. But the Magnus Maximus art journey went well beyond any previous show.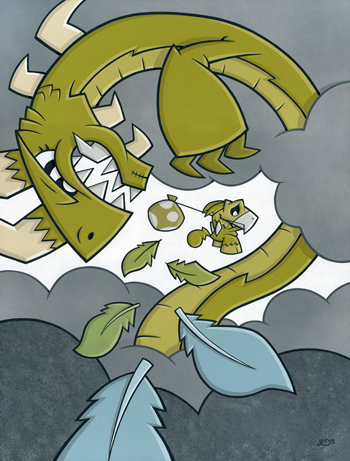 "For me, it has cumulatively epitomized everything I've been working toward for the past 9 years as a painter. Personal narrative, sardonic or humorous undertones, familiar scenarios, strong shadowed bold lines, bright colors, limited palette, and hopefully great characters one can sympathize and fall in love with."
Open to the public, the reception for Magnus Maximus will take place on Friday, June 4 from 7 to 10pm, and the show will be exhibited until June 23, 2010.
About Joe Ledbetter
Artist Joe Ledbetter was born in Glendale, California and grew up in Pasadena. He attended Humboldt State University where he graduated with a BA in Sociology.
However, art was his secret passion. While working as a graphic apparel artist for three years, Ledbetter immersed himself in Los Angeles' underground art scene, exhibiting at independent shows such as Cannibal Flower.
By the summer of 2004, he had honed his trademark visual style of emblematic line-work, vibrant colors, and endearing characters to the point of quitting his day job. With international appeal, he has had numerous solo exhibitions in Los Angeles, Tokyo, London, Paris, Rome, Toronto, Taipei, Istanbul, and Amsterdam.
For more information about the artist, please visit joeledbetter.com
Corey Helford Gallery
8522 Washington Boulevard
Culver City, CA 90232
T: 310-287-2340
Open Tuesday - Saturday, Noon to 6:00pm