Image Gallery
Jocelyn Marsh: Advancements in Science (Fiction)
Juxtapoz // Saturday, 04 Jun 2011
1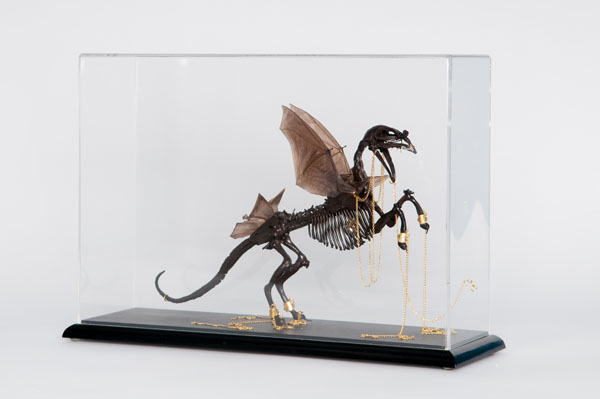 Artist Jocelyn Marsh opens her latest showcase,
Advancements in Science (Fiction)
,
of over 50 ambitious small and large sculptural works at Arty in Los Angeles, Saturday, June 4 from 7pm to 11pm.




Marsh's career began at an early age when she wrote fantastical fiction stories that eventually translated into mythical creatures and tales told through sculpture emphasizing her fascination with science and historical fiction.  In 2001, Marsh traveled from Southeast Asia to Western Europe and eventually settled down in Brussels, Belgium, where she continued to write and collect discarded treasures.  It was in Belgium that a taste for the macabre took hold of Jocelyn and by the time she returned to Los Angeles in 2003, a serious study into assemblage art ensued with the small collection she had started abroad.
Since, Jocelyn has compiled skeletons, butterflies, vintage toys, and other odds, ends and materials, bringing together parts fabricated from metals such as gold, copper, bronze, and pewter to form creatures that are yet unseen that tell their own fictional stories. Her work is sculptural, delicately intricate, and very highly detailed. Many of her smaller creations are often placed within glass or acrylic boxes for preservation. Advancements in Science (Fiction) showcases Jocelyn's work to date and features selected pieces from four previous collections as well as a preview of her newer creations. Over fifty pieces in varying sizes will be present and will weave the elaborate tale of her work's evolution.
Arty: 634 S Main Street, Los Angeles